If you're lucky enough to have naturally curly locks then at times you might struggle when it comes to the best way to dry your hair. After all, when there are curls there's also a risk of frizz so you do need to be careful if you want to keep your ringlets intact without any wispy strands or knots appearing. That's why today I'll be taking a look at some of my favourite ways to dry curly hair and how you can go about implementing them yourself at home.
How do you make curly hair dry faster?
If you're in a rush, the last thing you really want to deal with is curly wet hair as it can take a notoriously long time to dry. That's why the best thing would be to dry your hair overnight however, there's just one problem with this plan! If you're drying your hair overnight, there's little chance of your curls still being intact by morning which means you'll be left to wrestle with a mane of frizz. Fortunately, there are some overnight drying methods that are catching on!
1 – Plopping – What on earth is plopping? I'm glad you asked! Plopping is a method of drying your hair that involves using an old t-shirt. Once you've washed your hair with a volumising shampoo and conditioner (and set with a good detangler!) begin by laying out a t-shirt on your bed with the sleeves facing you. Simply bend over and 'plop' your curls in the centre of the t-shirt. Fold the back of your t-shirt over your neck and bring the sleeves towards your forehead. Then, wrap the sleeves around the back of your head and wrap them around the front. This might sound a bit tricky but don't worry, I've included a video below to help guide you through the process!
2 – Pineappling – First plopping and now pineappling? This all sounds a bit strange but stay with us! Pineappling is actually pretty simple – just gather your hair up into a high ponytail with a soft scrunchie (don't twist) and gently create a loose bun. Allow half of your curls fall to one side, the other half falling to the other. Once this is done, simply leave until morning and you should have some lovely, fuss-free curls.
3 – Braid your hair – This is an old fashioned way of getting perfect curls but it's stood the test of time and it still works. Instead of faffing around with t-shirts and scrunchies, all you need to do is braid your hair while it's still damp before you go to bed. If you have finer hair, one braid should suffice but if your hair is a little bit thicker, you could try sectioning it into multiple braids. If you're worried about how it will remain intact overnight, you could set your hair with some spray – John Masters' Hair Spray is an excellent choice here as it's a lightweight formula that can help to fight overnight frizz!
These are just a few of my favourite ways to dry curly hair overnight but what if you're in a rush? Well, here at Jan de Vries we're not massive fans of using thermal heat on your hair as it can cause all sorts of damage, including split ends and breakages. However, if you really must use a blow-dryer on your hair, it might be worth investing in a diffuser.
What does a diffuser do to curly hair?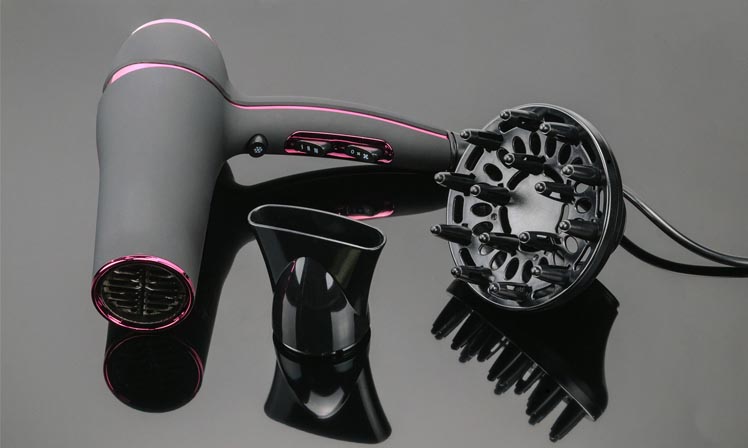 If you're not familiar with what a diffuser is, it's an attachment that is often available for hair dryers that can help to broaden the air flow to your hair, reducing its speed. This can help to prevent frizz but, in the long run, it's also not as damaging for your hair as the heat is spread out rather than concentrated in one area.
Diffusing is a great option for curly hair as, aside from a few of the benefits I've already mentioned, it also helps to give your curls a nice boost which makes sense when you consider that most hair dryers seem to flatten your hair. Nevertheless, if you've never used a diffuser before, it can be a little bit intimidating but don't worry, I'm here to help with a few simple steps.
Use a medium or cool setting – Using a slightly cooler setting can help to prevent some of the damaging effects of thermal heat but it also has the added benefit of helping to set your curls, increasing their longevity. However, there's still going to be an element of heat involved so it's still worth investing in a protective oil like John Masters' Argan Oil to help keep your hair from becoming dry and brittle
Hang your head upside down or to the side to create more volume - If you're looking for beautiful curls, then getting some volume into your hair can make a real difference. Traditionally, most hair-dryers focus all the heat and air on the top of your head, which can cause your hair to become quite flat and listless in appearance.
Gently push your hair into the diffuser bowl – Lift your hair into the diffuser bowl and try to use your fingers to shape your hair. Ideally, you should try to start at the roots of your hair, working down to the tips.
Use gentle, circular motions – Once the diffuser is on, use gentle circular motions, almost as though you are massaging your hair with the diffuser.
Set with some spray – Once you're satisfied that your hair is completely dry, hopefully you should have some nicely defined curls. However, exposure to the elements can sometimes mean that, over time, your curls might become looser and less defined which is why I'd recommend using John Masters' Hair Spray to help enhance the longevity of your look. As I mentioned earlier, this formula is chockfull of nourishing ingredients, including extracts of aloe vera and bergamot fruit oil to help prevent frizz and to keep your hair looking gorgeously soft and shiny!
So there you have it! Diffusing is super-simple and easy to master and can have all sorts of benefits for curly hair. Now that you have a good idea about how to go about drying curly hair, you might be wondering if there are any natural ways to curl your hair without resorting to curling tongs and straighteners. Well, wonder no more! My colleague Ayesha from HQ has got you covered with her fantastic blog, ' How do you curl you hair naturally?'