Coconut oil has emerged as a real powerhouse when it comes to beauty and skincare, being involved in everything from easing dry skin to treating split ends! Despite its popularity though, there is often confusion when it comes to how you should be using coconut oil, especially on your hair. That's why today I'm going to discuss when using coconut oil might be appropriate and, more importantly, how you can utilise the oil to get the best results possible!
When should you consider using coconut oil?
Coconut oil is often treated as a miracle cure for all hair problems and types but this isn't always true. When it comes to damaged hair, coconut oil can be quite useful, as Gill from our Auchterarder store discusses in her blog, 'Can coconut oil help repair damaged hair?' As Gill points out though, certain hair types don't always work well with coconut oil.
Surprisingly a lot of this is to do with protein. Your hair actually contains a special protein called keratin and damage often occurs when environmental factors, chemicals or thermal heat damage the protein in your hair. In these instances, coconut oil can be very beneficial as it contains plenty of amino acids, which are needed to build protein.
However, too much protein can be just as detrimental as not getting enough protein. If your hair feels tough, coarse, or dry it could be a sign that your balance of moisture and protein is off kilter, in which case coconut oil might not be the solution. It also goes without saying that oily hair types should try to steer clear of coconut as it might just make their problem worse.
Nevertheless, if you're suffering from damaged locks, split ends and general dullness, a little coconut oil could be just what you need!
How should I use coconut oil?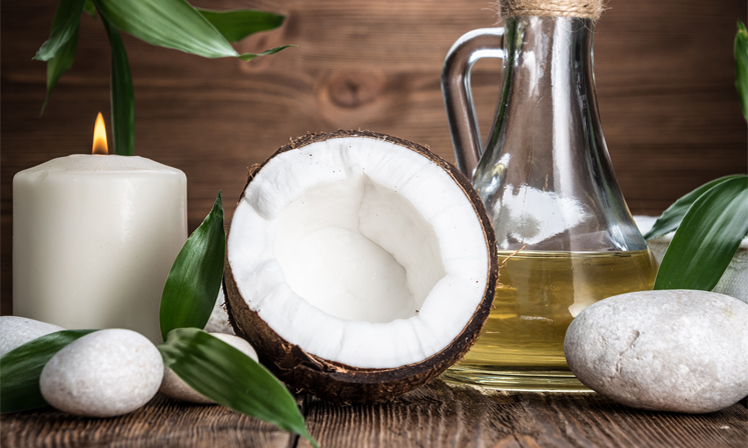 1 – Quality, not quantity
The first thing you need to understand about coconut oil is that a little can go a really long way. If you are going to use coconut oil in your hair, I definitely wouldn't recommend using more than 2-4 teaspoons, depending on the length of your hair. It's also worth noting that coconut oil can solidify at room temperature so you may have to melt it first and wait for it to cool before applying it to your hair.
More important that quantity though, is quality. Coconut oil is so widespread these days that you can find plenty of different types lingering on supermarket shelves. However, not all of them can live up to their promises and some can be quite heavily processed. That's why I always recommend going organic with your coconut oil, or better yet, raw and organic.
One of the reasons that Lucy Bee's Extra Virgin Raw Organic Coconut Oil is so popular here at Jan de Vries is because it ticks all of these crucial boxes. Unlike most coconut oils, it is processed at a cooler temperature to retain as much goodness as possible and it is filtered to remove any sediment, leaving only raw, pure coconut oil!
2 – Make sure the coconut oil is evenly distributed
Once you have the correct amount of coconut oil for the length of your hair, you can start to apply it. It doesn't matter if you apply it to wet hair or dry hair but do make sure it's being evenly distributed. The best way to do this is to use a wide toothed comb, massaging into the scalp and roots to help encourage healthy hair growth and ease scalp problems.
3 – Shampoo and condition your hair to remove the coconut oil
I'd suggest that you try to keep the coconut oil in your hair for around 20-30 minutes, although you can leave it in for longer if you feel as though your hair needs a more intense treatment. When you're ready, shampoo and condition your hair as usual – warm water should work to remove all traces of the oil and, as an added bonus, coconut oil may even prevent your hair from drying out during the shampooing phase!
Is there any other ways that you can use coconut oil?
The three step process I've just gone over with you is a basic guide for using a coconut oil hair treatment. If using coconut oil in this way doesn't appeal to you, the good news is that there are plenty of other ways to use coconut oil! You can apply a small, pea-sized amount of coconut oil to split ends to help mask their appearance or use it to tame flyaway strands and frizz. You can even mix coconut oil with other ingredients to create an ultra-rich hair mask!