Dry, damaged hair is becoming ever more common given our dependency on styling products such as hair dryers and straighteners and so many of us are going the extra mile to find solutions. However, what can you do if you need to banish split ends and frizz in a hurry? I'm glad you asked as today I'll be going over a few of my top tips to help you get your damaged locks under control when you're under pressure!
Step 1 – Keep your hair hydrated
Just because your hair is damaged doesn't necessarily mean that it is dry or vice versa however, as dryness certainly won't make matters any better and may make your hair vulnerable to further harm, it's a good idea to try and avoid it if possible. This means you may have to sacrifice your hair dryer or take better care when washing your hair but trust me, the results are well worth the effort. If you want to know what you should be doing to avoid dry hair, I'd highly recommend checking out Sam from our Stewarton Store's blog on the subject, 'How do I keep my hair from drying out?'
Step 2 – Switch up your hair care products
If you've read Sam's blog, then you'll know that the products you use on your hair really matter. Ideally you should be opting for products that contain plenty of soothing ingredients and nutrients to help feed your damaged locks, nursing them back to health. Unfortunately, the only thing most high-street hair care products seem to be feeding is frizz!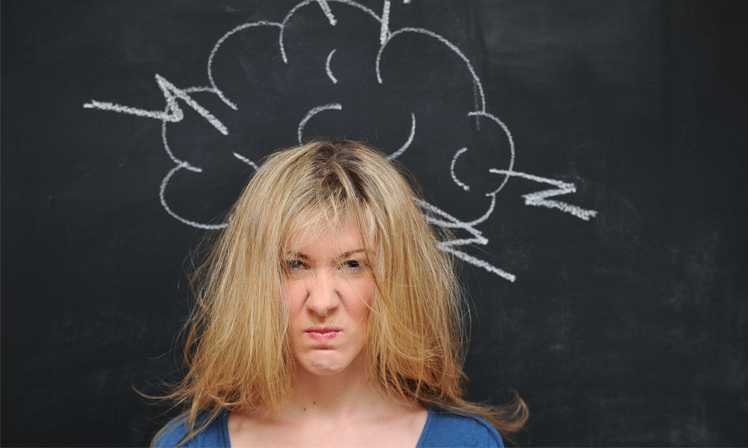 This is because most shampoos and conditioners involve a high concentration of potentially harmful synthetic fragrances and chemicals, which could damage your hair, stripping it of its natural oils and nutrients, resulting in split ends, a dry scalp and frizz. Even products that have hopped on the natural hair care bandwagon should still be treated with scrutiny which is why I always recommend brands you can trust. John Masters' definitely comes into this category as they offer high-quality, natural products that utilise organic ingredients to help condition and nourish your hair, infusing it with antioxidants to ward off any further damage!
If you're looking for a shampoo and conditioner that will help to treat damaged hair then I'd definitely look into their Organic Primrose Shampoo and their Honey and Hibiscus Reconstructor Conditioner. Treading the line between conditioner and treatment, their Honey and Hibiscus Conditioner is imbued with soy and wheat amino acids to help strengthen and renew damaged hair while their Primrose Shampoo contains plenty of protein to help increase your hair's resistance to damage!
Another great option if you're trying to treat frizz in a hurry is a product that's specifically formulated for this purpose. John Masters' Rosemary Detangler is especially for fine hair that's prone to frizz and it helps to relieve inflammation, easing tough knots and tangles for smoother, softer hair that's far easier to manage.
Step 3 – Treat your hair properly
There's more to combatting damage in a hurry than simply using hair care products and avoiding thermal heat. Your hair is exposed to a whole host of stressors every day, from UV radiation to dry air and pollutants. That's why it's important to take steps to protect your hair, particularly if you're trying to get it back to normal in a hurry. Consider everything from how you brush your hair to how you dry it. Here are just a few tips to get you started!
DON'T brush your hair from top to bottom: This can actually cause hair breakages and means you may even encounter more tangles. Instead, take a comb and start going through your hair from the tips working your way up gradually to the roots
DO keep your hair dryer at least six inches from your hair: If drying your hair naturally isn't an option, then try to blow dry your hair sensibly. Rather than pressing your dryer up against your scalp, keep it around six inches away from your hair to reduce the damage
DON'T towel dry your hair: The usual alternative to blow drying your hair, towel drying your hair can present just as many problems. If you don't do it properly, you're creating a recipe for split ends and frizz. Instead, try wrapping your hair up in a towel or simply letting it dry naturally
DO keep your straighteners/curlers on the lowest setting: If you have to use your styling products, try to turn the heat down. The hotter your straighteners are, the more chance your hair is going to suffer so try to turn things down a little bit!
DON'T tie your hair back too tightly: Do you habitually shove your hair into a tight ponytail and then head out the door? You're definitely not alone, however if you're a fan of the tight ponytail you could be damaging your hair, causing hair breakage at the roots. Don't be afraid to let your hair down every now and then!
DO use a hair-boosting oil: If you've got dry, damaged hair there's one quick and simple way to try and heal some of the damage…
Step 4 – Opt for an ultra-nourishing oil
Oils are a fantastic to treat damaged hair as they are usually loaded with nutrients, being a concentrated source of antioxidants, amino acids and essential fatty acids. That's why, here at Jan de Vries, we're always happy to recommend them to customers looking to reduce split ends and frizz. The only questions is though, which oil is best for dry, damaged hair?
I suppose it would have to come down to two choices – argan oil and coconut oil.
Let's take a look at the latter first – you might be more familiar with coconut oil when it comes to cooking but this oil actually has a wealth of benefits for your hair, being extremely rich in antioxidants and anti-inflammatory fatty acids. Studies have actually demonstrated that it's the most effective oil when it comes to preventing protein loss, not to mention it's particularly good for masking split ends!
However, coconut oil does have some drawbacks – a little really goes a long way so you're best using a small amount every week or so to get the best results. You also have to be aware that coconut oil is everywhere nowadays and not all brands were created equal. That's why I only recommend Lucy Bee's Raw Extra Virgin Organic Fairtrade Coconut Oil, which is of the highest quality and processed at low temperatures to retain as much goodness as possible.
On the other hand, you have argan oil. Argan oil is derived from argan kernels and, like coconut oil, is often involved in cooking in Morocco. However, it's arguably more famous worldwide for its amazing hair and skin benefits – it's full of antioxidants like vitamin E as well as omega 6 fatty acids, which can encourage the growth of healthy hair and prevent breakages. It's also pretty good for protecting your hair against the damage caused by thermal heat so it can be quite useful to apply before blow drying or straightening your hair.
If you do decide to opt for argan oil, I'd definitely suggest going for John Masters' 100% Pure Argan Oil. As the name may imply, it contains nothing but pure, organic argan oil – no additives or preservatives here! Just like coconut oil though, a little goes a long way so only apply a few drops, either to dry or wet hair and then style as usual!