Sea salt has come a long way from being a niche product to now lining the shelves of supermarkets up and down the high street. It seems everyone is now using sea salt to achieve those loose, effortless-looking beach curls, which is all well and good if you have longer locks but what if you have short hair? Will sea salt still provide your hair with the same textured look and, if so, how? In today's blog, I aim to answer these questions, offering my favourite recommendations and tips to help you get the look you want, fuss-free!
Why is everyone converting to sea salt?
Only a few years ago sea salt was relatively unheard of but now it's leapt into the spotlight with everyone vying to get the product, eager to achieve those effortless-looking beach waves or to add a bit of volume and texture to their hair. But why this sudden surge in popularity?
Well, part of the reason could be sea salt's versatility. Typically, when you picture sea salt you imagine it being used to create long tousled curls but this couldn't be further from the truth - sea salt is definitely for all hair lengths!
It also helps that sea salt provides a gentle hold that allows for movement – it works with your natural hair rather than attempting to mould it. Finer hair types still tend to do best though, thanks to sea salt's volumising properties. That being said, there may be cases where, in order to reap the full benefits of sea salt, you will need to give your hair a little bit of extra TLC before applying it.
This is because, despite adding texture and volume, sea salt can strip away your hair's essential oils. This may help oily hair but, if your hair is dry or damaged, it can sometimes contribute to frizz. Don't worry though, it's nothing you can't rectify – just check out Ayesha's blog 'Is sea salt bad for your hair?'
The best way to use sea salt on short hair
How you choose to use sea salt on your short locks will depend on how short your hair truly is and its type. If your hair is prone to dryness or damage then, as I've mentioned, you may need to nourish your hair before applying sea salt. You can do this by using an intensely rich leave in conditioner like Giovanni's Ultra-Sleek Leave-in Conditioner and Styling Elixir. This contains extracts of argan oil to help protect your hair against breakages and split ends.
Once you've done this, you then have to consider your hair length. Is your hair still long enough to curl? If so, you can use sea salt to get those much sought-after beach curls by applying sea salt spray to damp hair and then scrunching it in your hands. You can then blow-dry your hair or leave it to dry as normal.
However, if your hair is cropped closer to your face, you could try using sea salt to create more depth and texture. Spray the sea salt onto your hair or fingertips and work through your hair to create the look you're after – you could push the spray up into the scalp for more volume or run through your hair for a tousled, matte finish.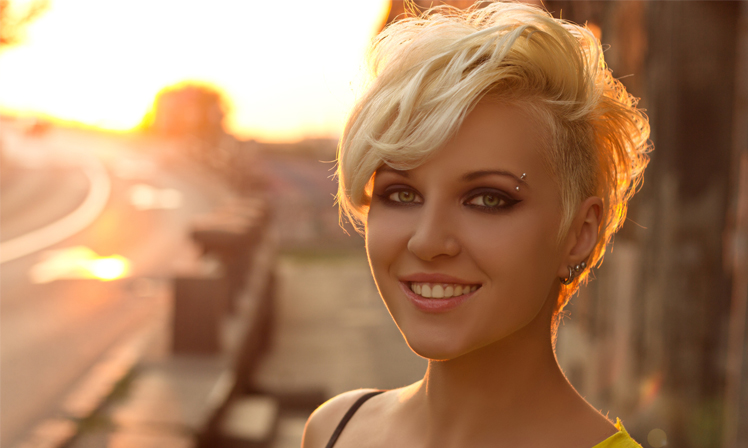 My favourite sea salt spray
When it comes to sea salt spray, these days you are spoilt for choice. There are dozens of different varieties available on the high street but unfortunately, quantity doesn't always mean quality. The majority of these sprays incorporate unfriendly chemicals and toxins which may dry your hair out and potentially lead to damage. That's why, here at Jan de Vries, we always recommend keeping things natural when it comes to your hair care products.
To that end, I'm happy to recommend John Masters' Sea Mist Organic Sea Salt Spray with Lavender. My colleague Ayesha speaks a little bit more about John Masters in her blog, 'Why we love John Masters!' but trust me, this is a nourishing, cruelty-free brand that always avoids using harsh chemicals in their products. Instead, they prefer to rely on natural ingredients and it shows in their Sea Salt Spray.