Loose beach curls are definitely in fashion at the moment but, if you have naturally straight hair, achieving this look can feel impossible. Trying to persuade your stubborn locks to bend into a natural-looking wave can be tricky; however it's still possible which is why I'm here. Today, I'll be discussing the best way to utilise sea salt spray on straight hair to help you get those coveted beach curls!
Can straight hair become curly?
People with curly hair often go to extreme lengths to get poker straight locks whilst those with straight hair often find themselves turning to hair care products and other means to achieve loose, waves – sometimes it seems that we're never really satisfied with what nature gave us! However, the real problem with trying to persuade straight hair into curls is that often we turn to curlers and other forms of thermal heat to get our desired look.
This can be a real problem, especially if you're using curlers on a daily basis. Thermal heat can damage hair, making it more prone to split ends, dryness and breakages. That's probably why recently, many of us have tried to explore alternative ways to get the perfect 'beach waves' and one thing that keeps cropping up is sea salt spray.
Sea salt spray helps to add volume and texture to flat lifeless hair and can even help to hold loose curls and waves in place. However, there are debates as to whether or not sea salt is really that effective at creating curls or if it can even help to hold curls for that long. As my colleague Jenny from our Preston store mentions though, it's how you use sea salt spray that really matters.
Consider your condition carefully
Firstly, if you have naturally straight hair you will need to take additional steps to add some volume to your hair. That's why I'd recommend opting for a conditioner that's chockfull of nourishing ingredients to help support and maintain your hair, especially if you often employ hair dryers or curlers in your everyday routine.
John Masters' Organic Honey & Hibiscus Hair Reconstructor is a good choice here as it's specifically formulated for dry, damaged hair, helping to strengthen it to resist the stress of everyday factors such as colouring and pollution. It also contains plenty of amino acids as well as ingredients such as borage oil and jojoba oil to help hydrate your locks.
Add an oil
If your hair is dry and dehydrated, introducing a sea salt spray is more likely to encourage frizz than curls. That's why it's important to try and hydrate your hair as much as possible. Not only will this make it more manageable, it can also help to prepare your hair for the sea salt, avoiding some of the side-effects that can sometimes be associated with the spray. Once again, John Masters' tick all of our boxes with their Organic Dry Hair Nourishment and Defrizzer.
This product is extremely rich, combining ingredients such as flax seed oil and rosemary oil, to help hydrate your hair and prevent frizz. You could add a couple of drops to your conditioner or if you're treating yourself to a hair mask, however, I'd be tempted to simply apply one or two drops straight to damp hair before using your sea salt spray.
Think about how you apply your sea salt spray
You can use sea salt spray on dry and wet hair, but ideally here at Jan de Vries we recommend applying sea salt spray whilst your hair is still damp. In most cases, a little sea salt spray can go a long way but if you have long, straight hair, you may find yourself needing to apply a little more than usual. Once you've applied your spray liberally, you can scrunch your hair to encourage it to dry into those desired waves. Or, alternatively, you could braid your hair and let it dry that way – if you're aiming for loose curls, one or two braids should suffice.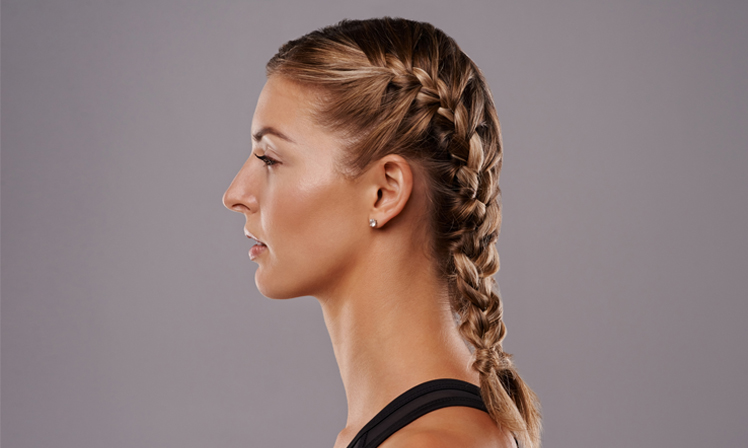 My favourite sea salt spray
If you are going to be using a sea salt spray, the first thing you should know is that quality counts. In the wrong hands, sea salt can be quite an abrasive ingredient, especially if it's coupled with other harmful chemicals like alcohol or parabens. Instead of getting the perfect beach curls, you could wind up with brittle, crispy locks and a whole lot of frizz! That's why you should be opting for a sea salt spray that utilises as few ingredients as possible. John Masters' Sea Mist Organic Sea Salt Spray with Lavender is my top pick here.
Yes, I'm turning to John Masters' again but they truly are a brand we appreciate here at Jan de Vries. You won't find any harsh ingredients or chemicals in any of their products as they prefer to utilise natural, organic ingredients that have been processed as little as possible to retain their innate goodness! If you want to learn more about John Masters' you can check out Ayesha's blog, 'Why we love John Masters.' Their sea salt spray is no exception and is completely alcohol-free, instead preferring to use extracts of organic lavender oil to help calm and comfort hair, providing a wonderful, natural-looking shine!