Argan oil has risen in popularity recently as people slowly begin to recognise the benefits it can have for skin and hair. So, if you're thinking of following the trend by using argan oil yourself, here's the low-down on what it has to offer and how to use it.
What's argan oil?
Argan oil is ground from kernels that are produced by argan trees, a plant native to Morocco. Here they primarily use argan oil for cooking however, elsewhere in the world it is perhaps more commonly used as a cosmetic and hair care product because of its many beneficial properties.
Benefits of using argan oil
Argan oil has host of benefits including the fact it is rich in antioxidants such as vitamin E which help protect the skin from free radical damage – a major cause of premature aging! Not only is vitamin E useful for the skin though, it also encourages the growth of healthy hair.
Alongside its vitamin E content, argan oil contains omega-6 which softens the hair and therefore helps to prevent breakage. This means the oil is ideal for dry or damaged hair, as well as those with frizzy hair, as it works to soothe, protect and rejuvenate it.
As well as this, argan oil acts as a moisturiser helping to soften the scalp and help fight dandruff and dryness.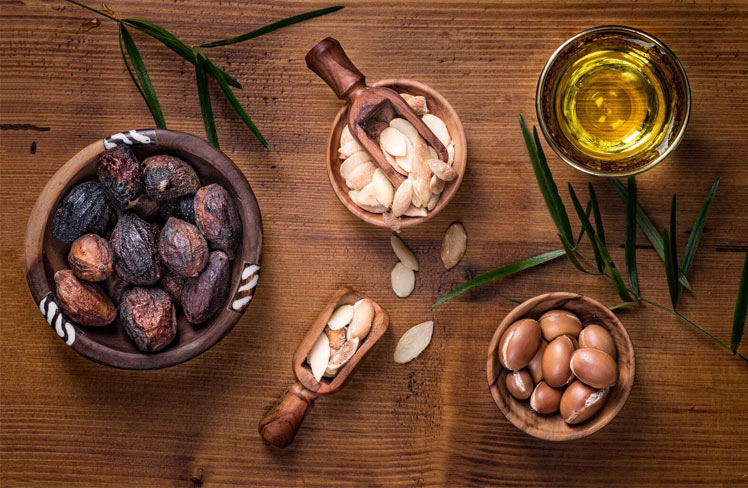 Applying argan oil
How you apply argan oil will depend on what you are using it for. If you wish to use it to style your hair then just put a little oil on your hands and then rub it through dry hair. Remember though, when it comes to using this oil, a little goes a long way so make sure you only use a couple of drops at a time. If you put on too much oil you risk making your hair look greasy.
If you do not want to use argan oil to style your hair then it is best applied to damp (not soaking) hair. Therefore, after washing your hair towel it dry and then apply the oil. After this you can blow dry your hair knowing it has the protection of argan oil - one of the added benefits of the oil is that it can protect against the heat of hair dryers and straighteners so there's just another reason to use it!
Argan oil - our top product picks
Here at Jan de Vries we'd recommend John Masters Argan Oil to help rejuvenate your hair. Not only is this product organic, it is also made using 100% argan oil (there really are no other ingredients!) and so as the oil is in its purest form, your hair will reap the benefits. As well as strengthening your hair and improving the overall texture of it, argan oil gives it a natural shine meaning you'll see the effects immediately!