Kids can get the nutrients they need from a healthy, balanced diet but sometimes this is easier said than done. Children can be notoriously fussy with food – and often the healthier the food, the greater the resistance. With that in mind here are some of our favourite children's health supplements to help keep the little ones fighting fit and topped up on the nutrients they need.
Easy, fuss-free vitamins for children don't come much better than BetterYou's brand-new Children's Health Oral Spray. Developed in partnership with mum and nutritionist Madeleine Shaw, this pill-free formulation provides vitamins C, A, B12 and D, folic acid, iodine and vitamin K2, to help support bone development, energy requirements and attention span. Easy to administer, and easy to dose, this vitamin spray is a convenient and effective way to support the growth and development of children from as young as one year old to teen. And as you'd expect from BetterYou, it tastes great too. We love its natural raspberry flavour. We're also very impressed with the carbon negative, plant-based plastic packaging!
Look after their tummies with Optibac's delicious-tasting Strawberry Kids Gummies. Made with real fruit and free from added sugars, artificial sweeteners and colours, these soft-bite fruit gummies provide proven friendly bacteria, vitamin D and calcium, for immune and digestive support. Developed for children over the age of three and extensively taste-tested by children for children, they're easy to take, with or without food, and are suitable for children on vegetarian, vegan, gluten-free or dairy-free diets. All this goodness is brought to you by the UK's most trusted and most recommended brand of friendly bacteria supplements*, and wrapped in 100% plastic-free packaging with a home compostable inner pouch and an FSC approved recyclable box. Again, ticking lots of boxes.
Solgar Kangavites , from £10.75 for 60 chewable tablets
Especially created with children (and parents) in mind, Solgar's Kangavites children's supplements provide a variety of important vitamins and minerals, including natural and food-based ingredients, in delicious kid-friendly flavours they're guaranteed to love. Each chewable, children's multivitamin and mineral formula is suitable for children aged 3 and over, and has been carefully formulated, based on nutritional expertise and science, to support the healthy lifestyle habits of children. Choose from Bouncin' Berry or Tropical Punch to cover their vitamin and mineral needs, or there's Kangavites Natural Orange Burst Vitamin C 100mg for additional immune support.
A fruity, multivitamin liquid formula designed especially for children over the age of three, Floradix Kindervital Fruity, provides liquid calcium, herbal extracts, nine vitamins and fruit juice concentrates. Calcium and vitamin D are needed for normal growth and bone development, and additional nutrients include vitamins A, D, E, C, B1, B2, niacin, B6 and B12. An easy to take, easy to dose liquid multivit, kids love the fruity taste of Floradix. It doesn't contain any alcohol, preservatives, colourings or artificial flavourings, is lactose free and gluten free, and is suitable for vegetarians and vegans.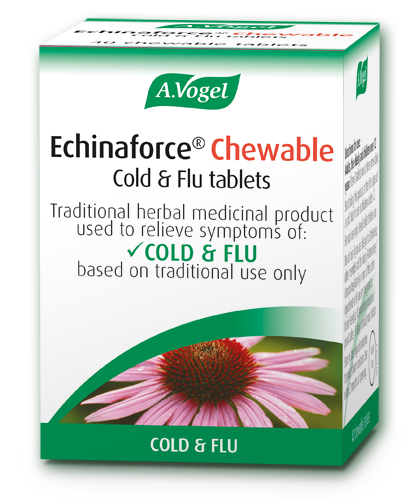 Give their immune systems a helping hand with A.Vogel's Echinaforce Chewable Cold & Flu tablets. Echinacea purpurea is well-documented for its immune-supportive properties and can help to fight the symptoms of colds and flu. They are suitable for children over the age of 12, and with their delicious orange flavour, are easier to take than drops or tablets.
*As determined in an independent survey of 1000 British parents.