The best way to get all the nutrients your family needs is via a well-balanced diet that's crammed with as many fresh whole foods as possible. The best whole foods for health include vegetables, fruit, nuts and seeds, legumes like beans and lentils, herbs and spices and unrefined wholegrains. But sometimes we still need an extra nutrient boost. Here are some of our favourite supplements to help keep the whole family fighting fit.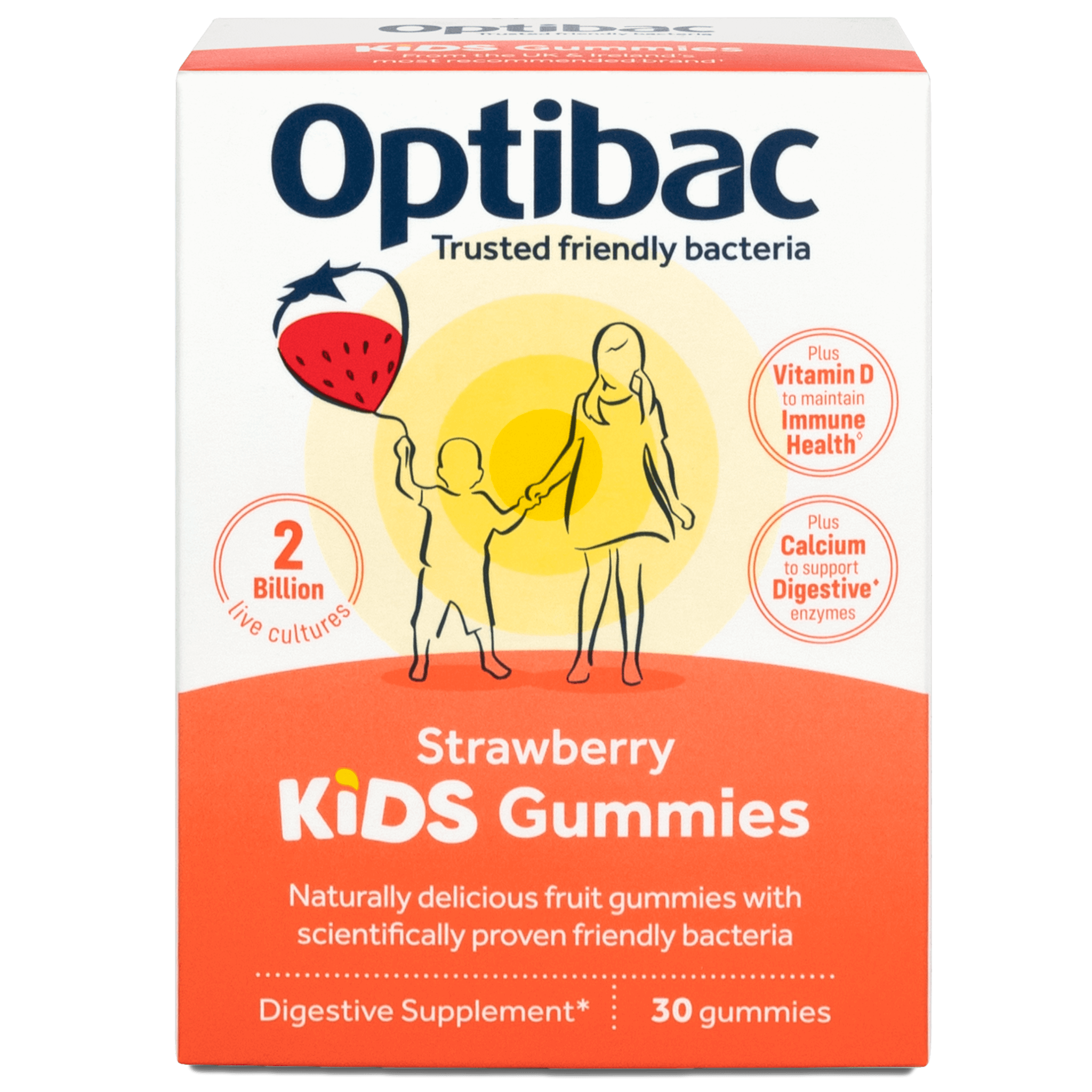 Probiotics
Probiotics are at the top of this list. They are the good bacteria in your gut that are important for digestive health – they help to keep your gut healthy, help you to absorb nutrients and digest food properly, and they help control levels of unfriendly bacteria and yeast.
They may also help with other areas of health, such as immunity, cholesterol and healthy weight management.
Probiotic supplements are a great way to increase good gut bacteria quickly. Try OptiBac Probiotics for Every Day , and for children over the age of three, Optibac Kids Gummies – Strawberry .
Vitamin C
Vitamin C is our go-to vitamin for immune health. We also need it to make collagen, for wound healing and it's an important antioxidant.
A poor diet, smoking, alcoholism and anorexia can all lead to low levels of vitamin C and related symptoms such as fatigue, dry or bumpy skin, slowly healing wounds, bleeding gums, painful joints, hair loss and of course, poor immunity.
There are plenty of vitamin C supplements to choose from. A.Vogel Nature-C provides 100mg of naturally occurring vitamin C sourced from fruits. It's perfect for gently supporting your immune system and also suitable for children over the age of 6. Solgar Ester-C + Vitamin C 1000mg provides a pH neutral dose of vitamin C that's easier to digest and kind on sensitive stomachs. And for some pill-free vit C, try BetterYou Vitamin C Daily Oral Spray , with vitamin C naturally sourced from acerola cherries.
Vitamin D
Vitamin D is important for many reasons but especially so for bone health in children and adults, brain development, muscle function and of course, immune function. Early symptoms of vitamin D deficiency can include inflammatory gut conditions, aching joints and low mood.
Our body is able to make its own vitamin D when skin is exposed to sunlight, hence the catchy alias, 'sunshine vitamin'. But in the UK there simply isn't enough sunshine during the winter months to keep levels of vitamin D topped up.
Try BetterYou's DLux 1000 Daily Vitamin D Oral Spray . Each spray provides 1000IU, or 25ug, of vitamin D3, which is almost twice as effective as vitamin D2 at increasing blood levels of vitamin D. A vegan vitamin D spray made with 100% plant-origin vitamin D3 is also available, as well as a vitamin D spray for children. DLux Junior Vitamin D Oral Spray is suitable for kids over the age of three, and for very young children try DLux Infant Vitamin D Oral Spray .
Life-stage multivitamins and all-round support
In addition to specific vitamins, a multivitamin targeted to age, gender and life-stage is sometimes what is needed. For very young children to teen, try BetterYou Children's Health Oral Spray . Each spray provides vitamins C, A, B12 and D, folic acid, iodine and vitamin K2, to help support bone development, energy and attention span.
If you're trying to fall pregnant, BetterYou Conception Oral Spray provides seven key nutrients, including zinc, folic acid and iron, to help support fertility and prepare the body for pregnancy. Already pregnant? Try BetterYou Pregnancy Oral Spray to help support mother and baby throughout pregnancy.
And for men and women of any age, try our very own Jan de Vries Anduvite Multivitamin & Mineral , with vitamins A, B12, B6, C and D, iron and trace minerals for great all-round support.