Echinacea is one of the most widely used herbal remedies in the world. There are several varieties of Echinacea plant, but Echinacea purpurea, also called purple cone flower, is the most researched and in our opinion, the most effective variety of Echinacea.
Benefits of Echinacea
Echinacea purpurea is best known for its beneficial effects on the immune system. It is a powerful immune-supportive herb that works by improving the way the immune system responds to bugs, especially the common cold.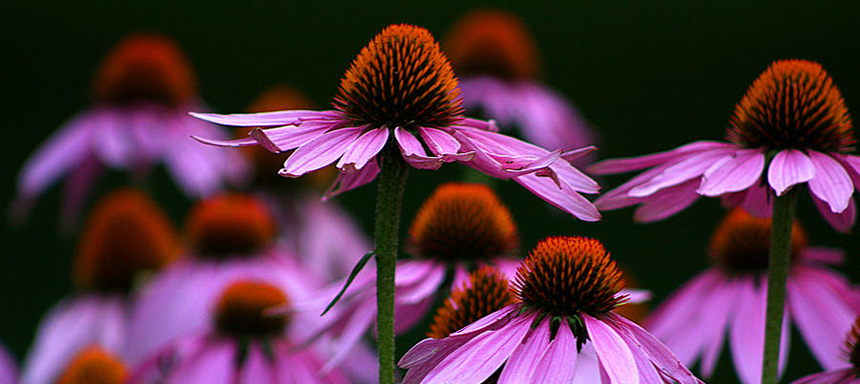 Echinacea to strengthen the immune system
Many factors in our day-to-day lives, such as stress, lack of sleep and a poor diet can weaken the immune system. Echinacea is well-known for its ability to strengthen the immune system and prevent colds and flu.
When using Echinacea products it is important to make sure both parts of the plant are used. The root of the plant has been found to be strongly anti-inflammatory whilst the aerial part demonstrates antiviral activity. A.Vogel Echinaforce® Echinacea Drops for cold and flu relief combines both and is made with fresh extracts of Echinacea purpurea (as opposed to dried), which means its activity is greater than that found in dried extracts.
Research by the Common Cold Centre in Cardiff showed that Echinaforce reduced the development of recurrent colds by 59%, reduced the severity of cold symptoms and reduced the number of days cold symptoms were experienced.
The study also found that those who benefited most taking Echinaforce were those more at risk of infection, such as smokers, people with high stress levels and poor sleepers. Echinaforce Drops are also useful for those with digestive problems as they act quickly and are easily absorbed.
Echinacea for colds and flu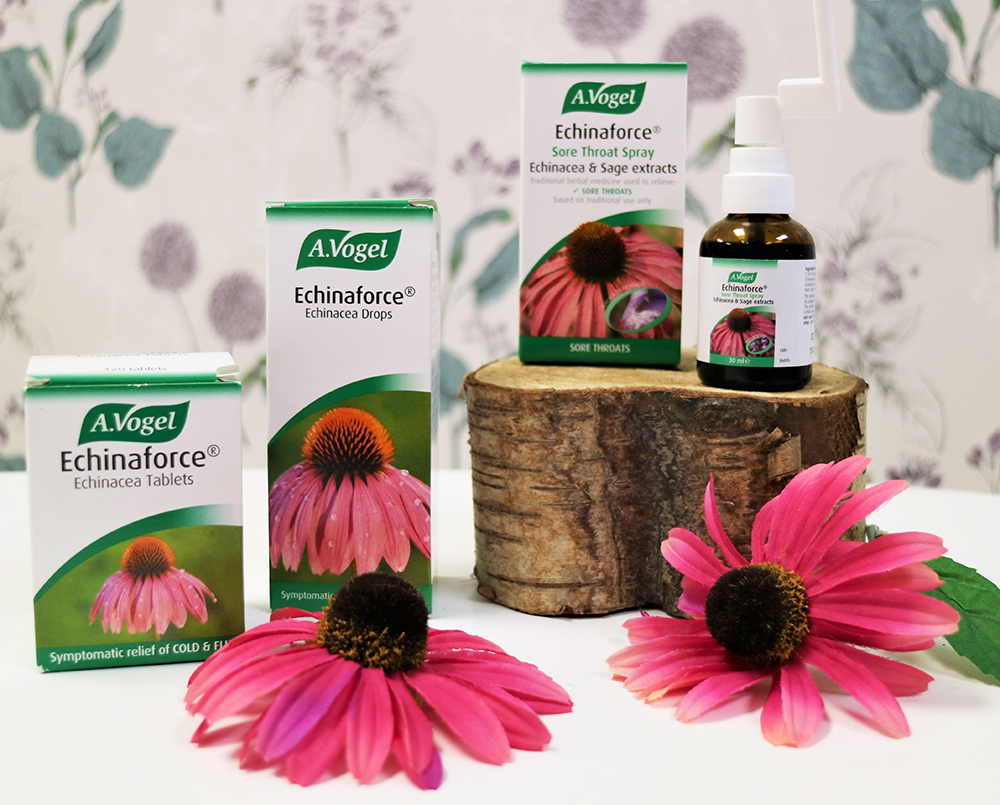 Echinacea can reduce the risk of repeated cold or flu infections. If you are prone to recurrent colds or flu, you can start taking Echinaforce® Echinacea Tablets at the first sign of an infection or longer term for more general immune support. As with Echinaforce Drops, Echinaforce Tablets combine both the root and fresh parts of the plant. One Echinaforce Tablet is the same as around 11 drops of Echinaforce tincture.
Not a fan of tablets? Try Echinaforce® Chewable. Easy to take Echinacea tablets in chewable format, Echinaforce Chewable Cold & Flu tablets are ideal for children aged 12 years and adults who are unable to swallow tablets.
Echinacea to soothe a sore throat
A sore throat is one of the first signs you are falling ill with a cold or flu.
A.Vogel Echinaforce® Sore Throat Spray can be used if you already have an infection. It contains sage, as well as Echinacea herb and root, which together help to relieve irritation and discomfort in the throat. The spray has a unique nozzle and pump that hits the back of the throat and targets the irritated areas. We recommend using Echinaforce Sore Throat Spray, six to 10 times daily, spraying the back of the throat each time, whilst infection is rife. It can be used by adults (over 18 years of age) and the elderly.
As with other sore throat remedies, do not use this product to treat your sore throat for longer than seven days. This is because if your symptoms persist for this period of time, you should see a doctor or other healthcare practitioner.
1 https://www.hindawi.com/journals/ecam/2012/841315...