Energy production is complex. It involves many chemical interactions, but if your energy levels are low, the solution needn't be. Here are five of our best-selling energy products, to help give you some much-needed pep: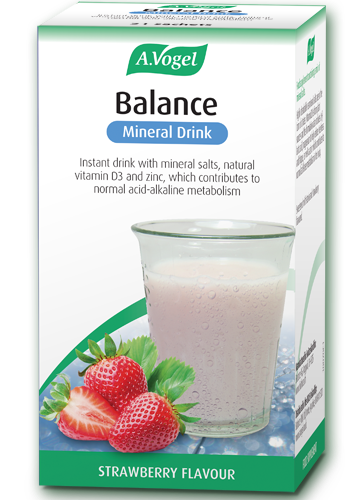 Minerals, such as calcium and magnesium, are essential for turning the food we eat into energy. A.Vogel's strawberry-flavoured Balance Mineral Drink contains magnesium, zinc, potassium, calcium and vitamin D, to help fight fatigue and tiredness. Simply add to water and stir. It tastes great too and is suitable for vegetarians and vegans
Solgar's Omnium is a fantastic phytonutrient multi-vitamin and mineral for maintaining general health and wellbeing. With vitamins C, E, D2 and K, full-spectrum B vitamins, essential minerals such as iron, iodine, zinc and magnesium, and additional co-enzyme Q10, turmeric, ALA and N-acetyl cysteine, this popular energy supplement is crammed full of nutrients, and is suitable for vegetarians and vegans.
B vitamins are important for energy support. Lamberts® Methyl B Complex is a superior and comprehensive B Complex supplement, providing Quatrefolic®, an advanced form of folate for optimum bioavailability. Vitamin B6 is present as Pyridoxal 5-Phosphate (P5P), the active form of vitamin B6, and vitamin B12 as methylcobalamin, which is also more easily absorbed form. Lamberts Methyl B Complex also incorporates all the other B vitamins plus inositol and choline. It's yeast free and suitable for both vegetarians and vegans.
Delivering 10mg of iron per 4 sprays, BetterYou's Iron 10 Oral Spray has been scientifically formulated to deliver iron directly into the bloodstream, bypassing primary processing by the gut. The tiny droplets absorb quickly into the lining of the cheek, providing fast, effective nutrient uptake. Iron tablets, capsules and liquids are notoriously known to cause digestive discomfort, but BetterYou's Iron 10 Oral Spray is specially formulated to be gentle on the digestive system. Iron deficiency is one of the most common causes of fatigue.
Prepared using organic Korean matcha, Pukka's Ginseng Matcha Tea is an energising boost that makes for a perfect mid-morning pick-me-up. Infused with zesty lemongrass, spicy ginger and pure red ginseng, it's a natural energy enhancer. Each ingredient is packed full of antioxidants and vitamins. Ginseng in particular is extremely useful for gently relieving the symptoms of stress. It's wonderful if you're feeling a bit run down or could do with cuppa to soothe your frazzled nerves.