There might be just the one virus that continues to grab the headlines, but there are over 200 in existence that can cause the common cold, and they are easily spread, many from person to person through nasal droplets secreted during coughing and sneezing. Germs from one sneeze can travel up to 9 metres and when travelling as fast as 100 mph, that doesn't give you much time to dive for cover. The following wellness tips will help to keep your immune system fighting fit this winter, as you do your best to dodge the seasonal coughs and splutters.

Natural remedies for colds and flu
One of the most effective and well-researched natural remedies for colds and flu is Echinacea purpurea. Growing evidence shows it can play a useful role in preventing the incidence of colds and flu and reduce the severity and duration of cold and flu symptoms. A.Vogel's Echinaforce® remains one of the most thoroughly researched Echinacea products available. Simply dilute 15 drops of Echinaforce® Echinacea Drops in a small amount of water, two to three times a day. If you're not keen on the taste, Echinaforce® Hot Drink, flavoured with delicious extracts of Black Elderberry, is also licensed for the relief of cold and flu symptoms.
For nasal congestion and catarrh, you could try Po-Ho Oil . A combination of natural essential oils, including Po-Ho (Mandarin for Peppermint) Eucalyptus, Juniper, Caraway and Fennel, Po-Ho Oil can be inhaled as a vapour when diluted in a bowl of hot water. Use very sparingly, one drop is plenty, or put one or two drops onto a hankie and place under your pillow at night. Wash hands thoroughly after use. A handy inhaler is also available.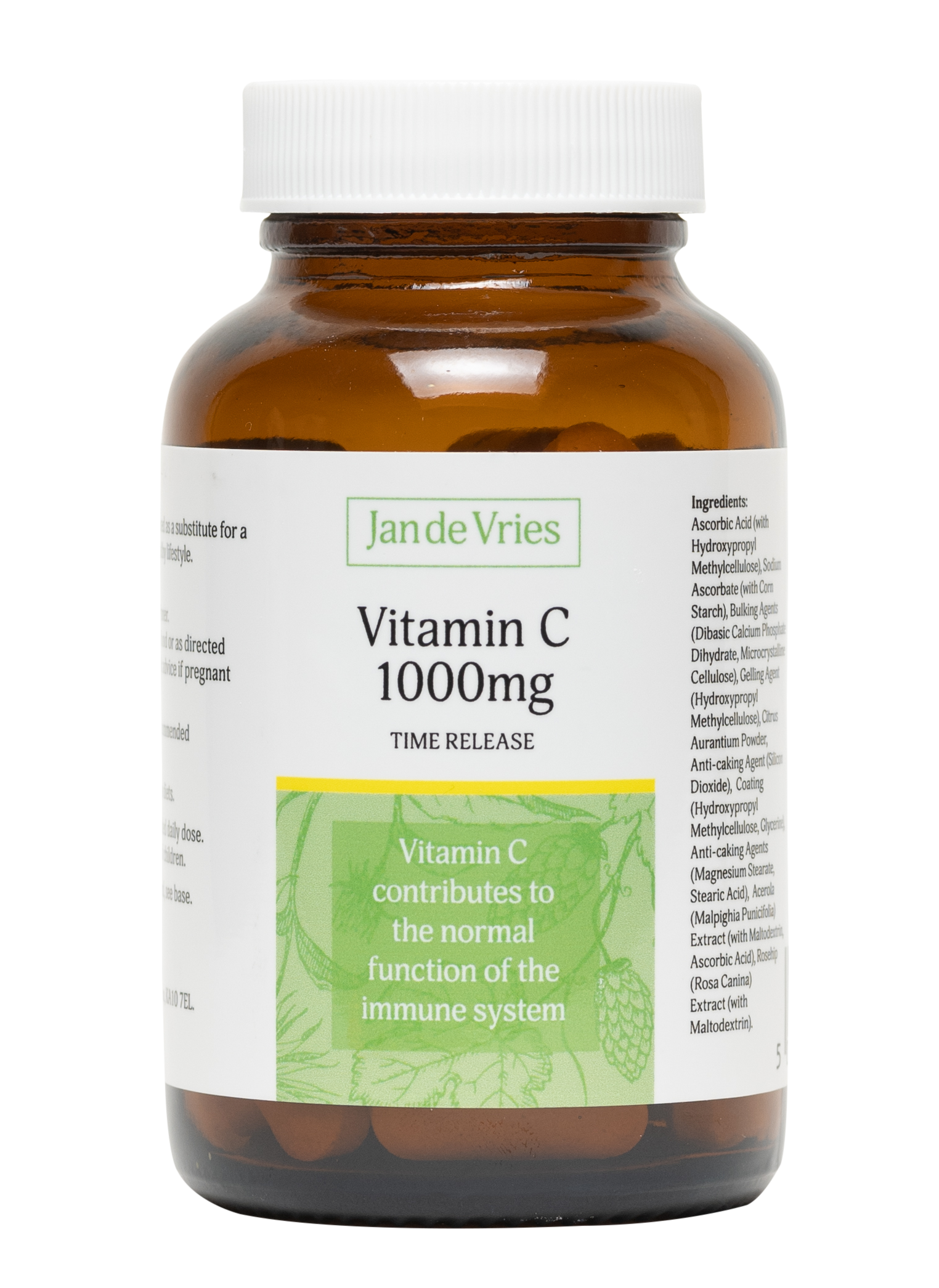 Vitamin C and nutrients for immune support
Specific vitamins and minerals can also lend support. Vitamin C is of course well-documented for aiding in the prevention of colds and other infections and one way it does this is by encouraging the production of white blood cells that help protect the body against infection. There are plenty of foods that contain vitamin C, strawberries especially are an excellent source, as are citrus fruits, acerola cherries, blackcurrants, kiwis, red peppers, Brussel sprouts, broccoli and kale. A vitamin C supplement can also help. Our new Jan de Vries Vitamin C 1000mg Timed Release tablets provide high strength vitamin C, equivalent to 1000mg per tablet, in a gradual, timed-release format to help optimise absorption.
Vitamin D is also important for immune health, not least because of the role it plays in activating T cells [1], a type of immune cell that hunts down and eliminates germs and other pathogens. Research shows that it may also be useful in preventing respiratory tract infections such as colds, flus and bronchitis [2].
Zinc too helps to keep the immune system strong. When there is enough zinc in the body, it assists the main immune cells in doing their job. It also has anti-inflammatory and anti-oxidant properties, which affects how our bodies recover from, and respond to illness.
Egg yolks, soy milk and cereals are good sources of vitamin D and pumpkin seeds, cashews and chickpeas are great for getting your fix of zinc. Alternatively, Immune Support from A.Vogel combines all three, including a vegan source of vitamin D, and the edible flower Nasturtium, in itself a source of vitamin C.
Gut health and immunity
Friendly bacteria and good intestinal health are also important. When you are first exposed to a virus, your immune system uses antibodies to bind to the virus in the respiratory and digestive tracts. These antibodies work to prevent the virus from entering the body further, and also identify it to be destroyed.
One way to keep your gut happy and healthy is to maintain a healthy balance of gut flora with a probiotic supplement. Some probiotic strains have been studied specifically for their beneficial immunomodulatory action. Try OptiBac Probiotics Immune Support, which has been formulated especially to help support the immune system.
Hankies, sanitiser and masks to the ready
Finally, the single most important precaution you can take to prevent the spread of colds and flu is to practice good hygiene: wash your hands regularly, use hand sanitiser when in contact with multi-use items such as door handles, trolleys and railings, and wear a mask when in public places.
---
[1] https://www.ncbi.nlm.nih.gov/pmc/articles/PMC4425186/