We all know that honey is good for us, but what makes Manuka honey so special? Here we take a look at some of the benefits of Manuka honey as well as a few ways you can increase your intake of this rather brilliant, sweet stuff.
What is Manuka honey?
Manuka honey is a type of honey native to New Zealand. The indigenous Māori population recognised the unique activity of Manuka honey hundreds of years ago and they have been using it ever since. Manuka honey is usually of monofloral variety, meaning the bees who collect the nectar for the honey visit only the Manuka bush and not any other flowers or plants.
Why is Manuka better?
Manuka honey naturally contains disinfecting hydrogen peroxide, as well as a natural antibacterial called methylglyoxal or MGO. The higher the MGO, the more potent the honey.
Manuka honey is also renowned for its antiviral, anti-inflammatory and antioxidant properties.
What are the benefits of Manuka honey?
Manuka honey is often used to help with wound-healing, burns and sores, and can be applied directly to the affected area. It helps to keep the wound moist, all the while maintaining a protective barrier that prevents microbial infections from taking hold within the wound. Studies show it can also increase the regeneration of tissue [1] and decrease pain in patients suffering from burns[2].
You can also apply Manuka honey to a live cold sore to stop bacteria from entering and making the sore worse. It might sting a little at first, but it will help to reduce the pain in the long run as it stops the sore from drying out and cracking.
Sore throat? A spoonful of honey can help. Not only does it coat the inner lining of the throat for a soothing effect, but its antiviral and antibacterial properties can reduce inflammation and attack the bacteria that cause pain. Many also use honey as a natural cough suppressant.
Manuka honey may even help to improve the symptoms of IBS thanks to its anti-inflammatory action, and reduce stomach ulcers caused by the bacteria H. Pylori [3], although more research is needed.
And Manuka honey can of course be used as a healthy alternative to sugar and artificial sweeteners in foods and drinks.
Manuka honey products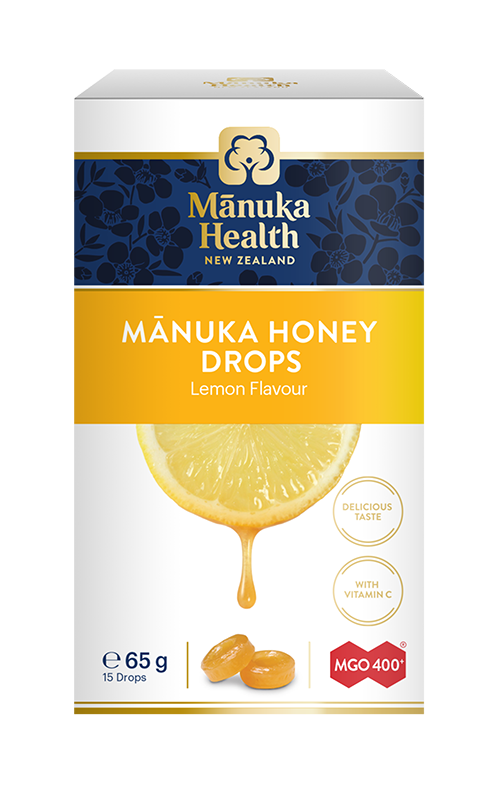 Which brings us seamlessly on to some of our favourite ways to enjoy Manuka honey!
Straight off the spoon? Pure Gold Premium Select Manuka Honey is available in jars of 85+ MGO to 525+ MGO and you can be assured that the honey used has been tested by an internationally accredited New Zealand Government approved laboratory for MGO, and that it complies to New Zealand MPI standards that identify it as genuine Manuka honey. Only the best Manuka makes it into these jars.
Looking for a honey on the go? Then you need Manuka Honey On-The-Go by Manuka Health. A convenient and mess-free way to get a boost of natural goodness on the go, each box contains 12 individual (5g) servings of MGO 100+ Manuka Honey. Just snap and squeeze.
Prefer to savour your honey? We love Manuka Health's comprehensive range of Manuka honey lozenges . There are four delicious flavours to choose from, including Manuka Honey & Propolis , Manuka Honey & Blackcurrant , Manuka Honey & Lemon and Manuka Honey, Ginger & Lemon . Each provides 400+ MGO and soothing comfort for the mouth and throat.
---
[1] Health Benefits of Manuka Honey as an Essential Constituent for Tissue Regeneration - PubMed (nih.gov)
[2] Evidence for Clinical Use of Honey in Wound Healing as an Anti-bacterial, Anti-inflammatory Anti-oxidant and Anti-viral Agent: A Review (nih.gov)
[3] 7 Proven Benefits and Uses of Manuka Honey (healthline.com)