Here's the low-down on the new line-up: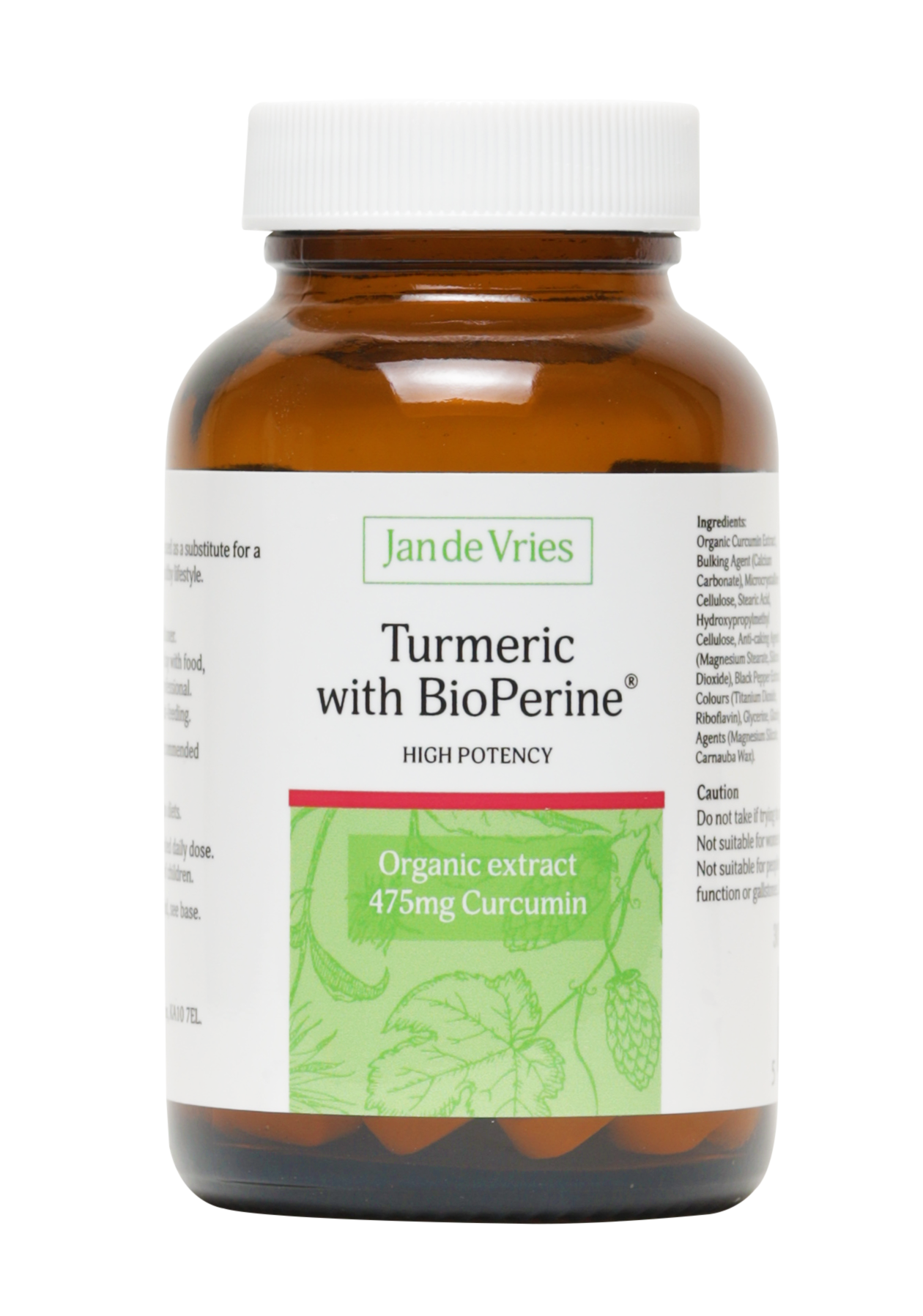 Our Eastern neighbours have been long convinced by the benefits of turmeric, but this golden spice is still a relative newcomer here in the West and it's the potential health benefitsof turmeric that have so many of us wondering. The subject of ongoing research, turmeric owes its health-promoting properties to a chemical compound called curcumin, which is well-documented for its anti-inflammatory and antioxidant action in the body.
In order for curcumin to be effective, black pepper must be present to aid absorption. Our turmeric tablets contain 95% curcumin and 5mg of piperine black pepper extract in the form of patented BioPerine®. We anticipate Jan de Vries Turmeric becoming a popular product for joint pain and swelling. Take one to two tablets daily with food. This supplement is also suitable for vegetarians and vegans.
We all need a little vitamin C TLC from time to time and that's because it's such an important nutrient. It's essential for a healthy immune system, collagen synthesis and wound healing. It's also an important antioxidant and contributes to the protection of cells from oxidative stress. Vitamin C also helps with the absorption of iron in the body and is involved in energy metabolism, contributing to the reduction of tiredness and fatigue.
Because the body can't produce it and can only store a small amount, we need to source vitamin C on a daily and continual basis, which is why timed release is important. Jan de Vries Vitamin C is a time release tablet which allows the body to use what it needs throughout the day, providing better absorption and longer-lasting action. It also contains rosehip and acerola extract. Vitamin C is especially chosen by those leading hectic lifestyles and highly active people. We recommend a time release vitamin C to anyone who frequently gets colds and anyone who doesn't always eat enough fresh fruit and vegetables.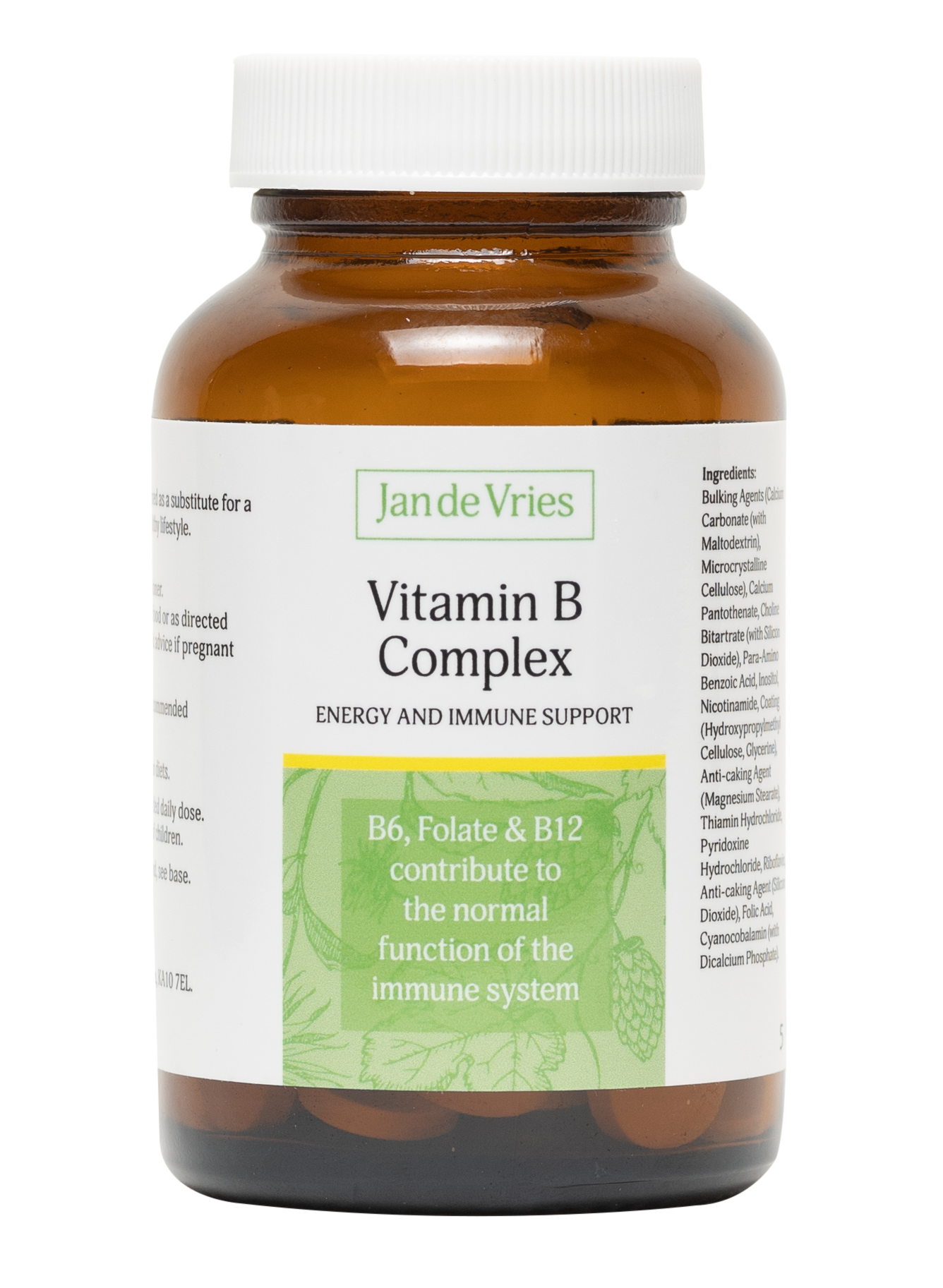 Each Jan de Vries Vitamin C tablet provides 1000mg of time release vitamin C and is suitable for vegetarians and vegans. Take one tablet daily with food.
Feel the buzz with vitamin B! When it comes to keeping energy levels high the B vitamins are definitely at the top of the pile. B vitamins play a vital role in maintaining good health and wellbeing. They are the building blocks of a healthy body. B vitamins are known to contribute to the normal functioning of the immune system and to normal psychological function. They also contribute to the reduction of tiredness and fatigue, as well as the maintenance of normal skin.
Although recognised for their role in metabolism and maintaining energy levels, each individual B vitamin helps to encourage a wide variety of functions throughout the body, from supporting muscles to encouraging hormone production.
Our Jan de Vries B-Complex contains all the B vitamins you need, in a handy one-a-day tablet. Already a popular choice with those looking to boost energy levels and support adrenals during times of stress, our B-Complex combines vitamins B1, B2, B3, B6, Folic acid and B12 to support the nervous system and promote energy metabolism. Take one tablet daily with food. This complex is suitable for vegetarians.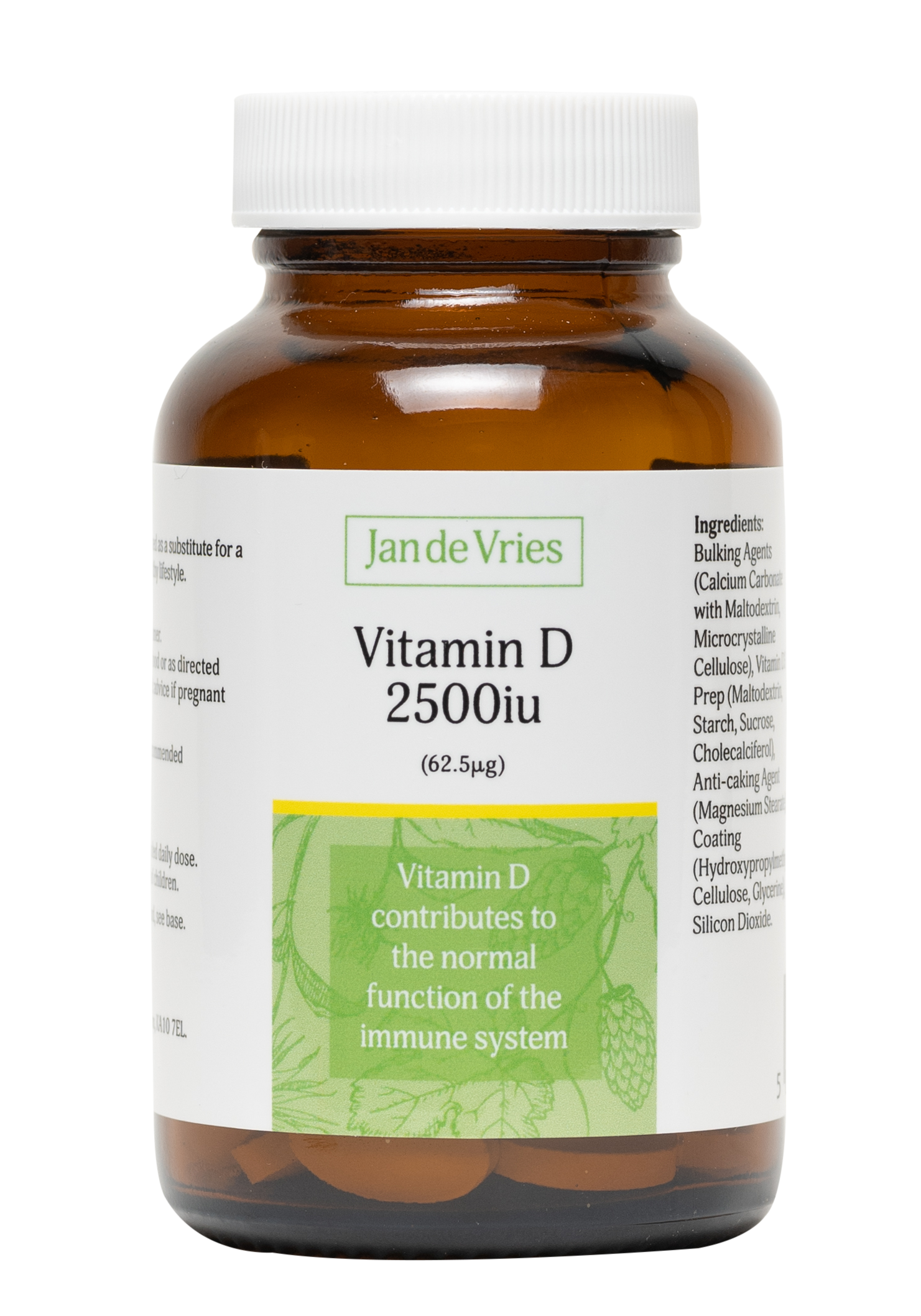 Unlike most other vitamins, our body is able to make its own vitamin D when skin is exposed to sunlight, hence why it's often referred to as the sunshine vitamin. That's all very well when the sun is shining! Our Jan de Vries Vitamin D 2500iu would suit someone looking to improve their current levels of vitamin D if levels are low.
Vitamin D is needed for bone health, teeth and muscles, immunity and low mood. It also helps in regulating calcium levels within the body and contributes to normal uptake of calcium and phosphorus and the maintenance of normal levels of calcium in the blood. It's important all year round but especially so during the winter months, when your immune system may be in need of additional support. A fat-soluble vitamin, meaning it dissolves in fats, not water, vitamin D can be stored in the body for long periods of time. A vitamin D supplement is often the preferred way to increase levels of vitamin D, especially in the event of vitamin D deficiency. Our one-a-day D3 2500iu tablets provide a whopping 2500iu of vitamin D3 per tablet and are suitable for vegetarians.
Just need a wee D3 top-up? If you just need a maintenance dose of vitamin D3, our Jan de Vries Vitamin D3 1000iu tablets are perfect. You would take D3 1000iu for all the same reasons as you would our high-strength vitamin D, but as a top-up to dietary vitamin D, naturally sourced vitamin D (from sufficient sun exposure) or just to supplement your intake of vitamin D from a broad spectrum multivitamin or other supplement also providing vitamin D. As with our high-strength vitamin D supplement, Jan de Vries Vitamin D3 1000iu tablets are also suitable for vegetarians.