From running and rock climbing to gentle strolls and pottering in the gardening, however you decide to limber up, it's more important than ever to stay healthy and fit. Here are five of our favourite joint health products to help keep you on your feet.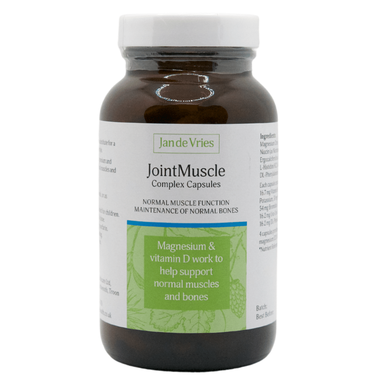 Ok, all bias aside, we are rather fond of our Jan de Vries Joint Muscle Complex. From vitamin D to magnesium and MSM, each capsule delivers a wide range of nutrients, including, amino acids and minerals, chosen to help nourish, protect and support muscles and joints. It also helps to encourage the metabolism of proteins, maintain strong, healthy bones, and counteract against inflammation. You'll even find a number of lesser known but just as important ingredients, such as Uva-ursi and cornsilk, which are included for their gentle cleansing and soothing actions. We never tire of recommending Joint Muscle Complex, but it has proven especially popular with sufferers of rheumatism and osteoarthritis.
Feeling stiff? Devil's Claw, or Harpagophytum, is a brilliant natural anti-inflammatory. Found only found in the Kalahari Desert of South Africa, it has been used for many years to help reduce rheumatic pain, muscle pain and joint pain, and studies suggest that long-term use of Devil's Claw is not only safe, it may also lead to improvements in those with chronic lower back pain. Try A.Vogel's Atrosan® Devil's Claw tablets; it's specifically indicated for use as a rheumatism product for the relief of joint and muscular pain in adults and the elderly, and can be used alongside other medicines.
For topical relief from inflammation try A.Vogel's Atrogel Arnica Gel. Thought Arnica was just for bruising? Think again. Arnica is fantastic at relieving pain and stiffness in joints and muscles, as well as reducing swelling. In fact, clinical research has shown it to be just as effective as ibuprofen at reducing pain and stiffness in the fingers of osteoarthritis patients. And unlike conventional painkillers that can cause unwanted side-effects, this 100% natural alternative to NSAIDs is safe for long-term use. Massage into the affected area and let Arnica work its magic!
Relax tired muscles with magnesium! This mighty mineral is important for heaps of reasons, including tiredness, fatigue and muscle cramps. Magnesium acts as a muscle relaxant, and is involved in sending nerve signals that help your muscles and brain to relax. 90% of the body's magnesium is found in muscles and bones, and so when levels are low, magnesium is pulled from these areas, which leads to muscle cramps and twitches. There are lots of magnesium supplements to choose from, but one of our go-to magnesium products is BetterYou's Magnesium Oil Joint Spray. 10 sprays deliver 100mg magnesium as well as 50mg of glucosamine, which is widely recognised for its anti-inflammatory action, whilst menthol and eucalyptus have a wonderfully cooling effect on tired muscles.
Turmeric also has heaps of anti-inflammatory potential. It looks a lot like an orange version of its plant-cousin ginger, and like ginger is well-documented for its anti-inflammatory action in the body. This is due largely to a chemical compound called curcumin, which is thought to slow down the inflammatory pathways if used in the treatment of conditions such as arthritis. In order for curcumin to be effective, black pepper must be present to aid absorption. Our new turmeric tablets contain 95% curcumin and 5mg of piperine black pepper extract in the form of patented BioPerine®, and are already proving a firm favourite for customers with joint pain and swelling.