Nearly all of us will have experienced a sore throat at some point. There's no mistaking that dry, scratchy tickle that heralds something painful is on its way. And once it has taken hold, sore throat symptoms can progress to nasal congestion, swollen glands, hoarseness and trouble swallowing.
Causes of a sore throat
A sore throat is usually caused by a virus or bacteria. Cold and flu viruses are the most common cause of a sore throat, but bacterial infections can also cause throat pain. Strep throat is one of the most common bacterial throat infections, affecting the back of the throat and the tonsils, and may require antibiotics to treat.
A sore throat caused by a virus usually clears up on its own, but there are several natural remedies that can help with sore throat symptoms, and even speed its departure.
Sore throat remedies
Here are three of our favourite natural sore throat soothers:
1. A.Vogel Echinaforce® Sore Throat Spray
Echinacea purpurea is a powerful immune-supportive herb that works by improving the way the immune system responds to bugs, especially the common cold. Echinacea Throat Spray contains sage, as well as Echinacea herb and root, which together help to relieve irritation and discomfort in the throat.
Echinacea in spray form is great because it enables you to directly target the back of the throat and any irritated areas. It is suitable for adults (over 18 years of age) and the elderly. We recommend using Echinaforce Sore Throat Spray, six to 10 times daily, whilst infection is rife. As with other sore throat remedies, do not use for longer than seven days. This is because if your symptoms persist for this period of time, you should see a doctor or other healthcare practitioner.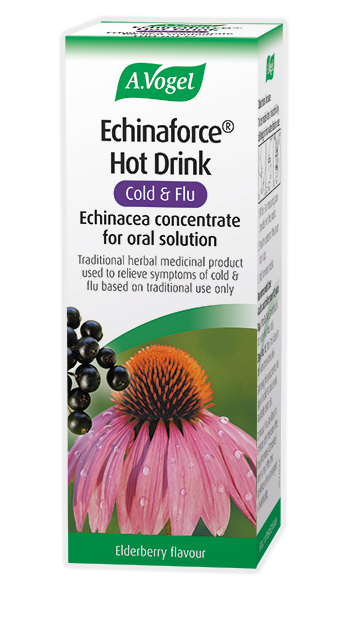 2. A.Vogel Echinaforce® Hot Drink – Echinacea with Black Elderberry
Nothing soothes a sore throat quite like a warming drink! A.Vogel's Echinaforce®Hot Drink with fresh Echinacea extract and tart elderberries is a warming winter drink that can be used to relieve symptoms of cold and flu. It's suitable for adults and children over the age of 12 and it tastes delicious!
For younger children you could try Pukka's Elderberry and Echinacea Tea with extracts of Echinacea, elderflower and rosehip, to help support their immune system.
3. Honey and lemon
Were you ever told as a child that hot honey and lemon works wonders for a sore throat? Well, there is more than a little science behind this age-old pearl of wisdom. Honey is recognised the world over for its antimicrobial, antiviral and antifungal properties. It is also used to dress wounds. And lemons are a great source of vitamin C, plus they can provide pain relief and help to break up mucus. Simply mix two teaspoons of honey and one teaspoon of freshly squeezed lemon juice into a cup of warm or hot water.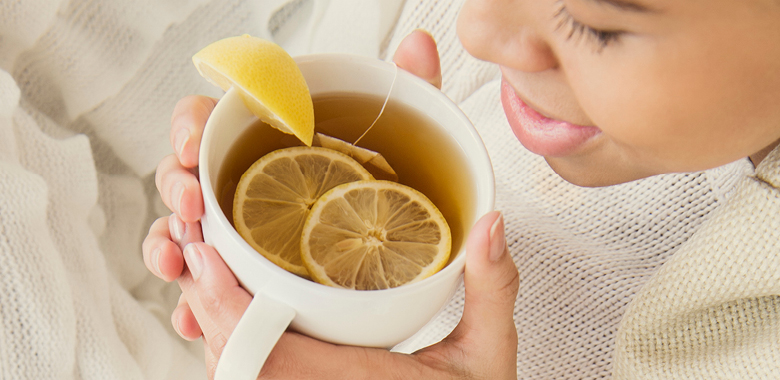 Don't have the ingredients to hand? Try Pukka's Lemon, Ginger and Manuka Honey Tea . It's 100% gluten-free and sustainably sourced, and the blast of ginger makes it a wonderfully warming drink.