Need some emotional support?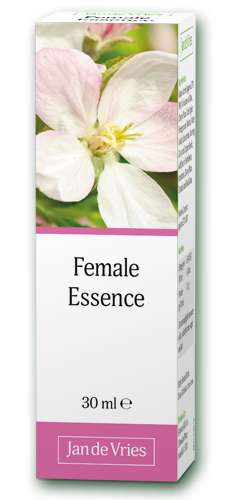 Our Jan de Vries Female Essence is one of our most popular products for women.
Part of the Jan de Vries Flower Essences range, Female Essence provides a combination of flower essences that work rapidly but gently on the emotions, and can be taken alongside other medications.
Flower essences are used primarily to provide support on an emotional level, especially when a physical condition may be caused or exacerbated by emotional factors such as stress and anxiety
This particular flower combination is designed to help women during times of emotional challenge, and may help with feelings of negativity and vulnerability experienced by some women during and after menopause.
It combines essences of Cherry Plum, Crab Apple, Olive, Pomegranate, Walnut, Water Violet, Scleranthus, Morning Glory, Impatiens and Copper Beech, which work synergistically to help you feel more optimistic, patient and generally more grounded during times of stress and vulnerability.
Take five drops in a little water three times daily, up to six times daily if required.
Jan de Vries Female Essence costs £5.35 for 30ml and is available in-store or online.