Need a joint health supplement that packs a punch?
Our Jan de Vries Joint Muscle Complex is one of our most comprehensive formulations for joints and muscles.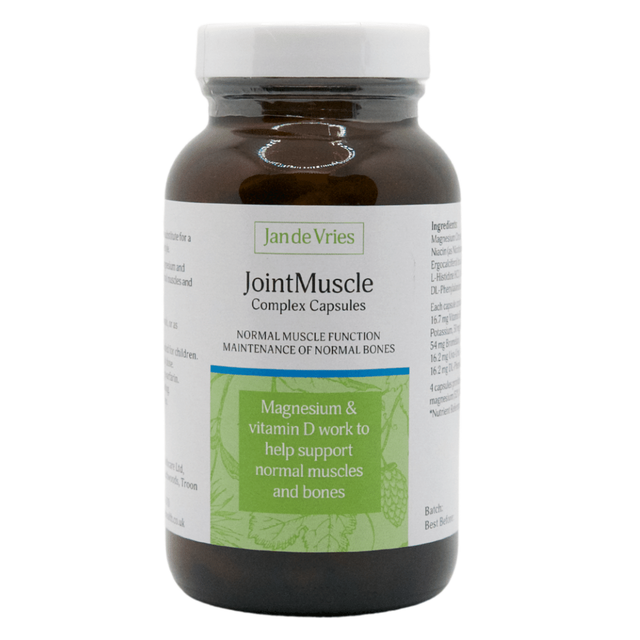 Joint pain is estimated to affect one in five of us. Osteoarthritis is caused when the protective cartilage on the ends of bones breaks down, causing pain and swelling.
As we age the body is often unable to replace new cartilage to counteract any loss, allowing insufficiently cushioned bones to rub together, which causes inflammation, pain and stiffness.
Excessive sporting wear and tear, through running or cycling for example, can accelerate this process, and of course, some forms of arthritis are hereditary.
Almost any joint can be affected, all with differing levels of severity.
Packed full with nutrients that help to support muscle and joint health, the Jan de Vries Joint Muscle Complex may be useful for difficulties brought about from conditions such as osteoarthritis and rheumatism.
It brings together a number of joint and muscle favourites, such as MSM and magnesium, vitamin D, calcium, potassium, amino acids and bromelain - an enzyme naturally present in pineapple that is potentially helpful for joint pain.
Lesser known ingredients for joint health include Uva-Ursi and cornsilk, which are both included for their gentle cleansing and soothing actions.
Simply take two capsules, twice a day before a meal.
Jan De Vries Muscle Joint Complex costs £20.50 for 120 capsules, a month's supply, and is available online and in all Jan de Vries stores as well as selected independent health shops nationwide.
If you suffer with muscle or joint pain, why not try put our Joint Muscle Complex to the test? There's a reason why it's one of our best-selling products for joint health.