Feeling a little flat? Jan de Vries Mood Essence can be used to help restore feelings of positivity.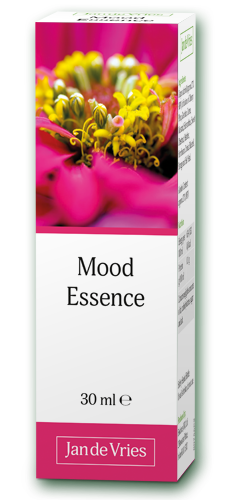 Part of the Jan de Vries Flower Essences range, it provides a combination of flower essences for a wider spectrum of activity. They work rapidly but gently on the emotions and can be taken alongside other medications.
Flower essences are used primarily to provide support on an emotional level, especially when a physical condition may be caused or exacerbated by emotional factors such as stress and low mood, and this particular combination of flower essences may give support when it is difficult to stay positive.
Taken regularly, Mood Essence aims to uplift and bring back an optimistic and enthusiastic outlook.
It combines, essences of Cherry Plum, Gentian, Gorse, Mustard, Scleranthus, Sweet Chestnut, Heather, Hornbeam, Zinnia, Bluebell, Borage and Self Heal, which work synergistically to help you feel more optimistic, uplifted and positive.
Take five drops in a little water three times daily, until the bottle is finished.
Jan de Vries Mood Essence costs £5.35 for 30ml and is available from health stores nationwide and online from www.jandevrieshealth.co.uk