Move over matcha, there's a new superfood in town… Ok, so the benefits of turmeric and turmeric supplements may not be quite so new to those in the know, but did you know that many studies maintain that in order for turmeric to have an effect on health, black pepper needs to be present to aid its absorption?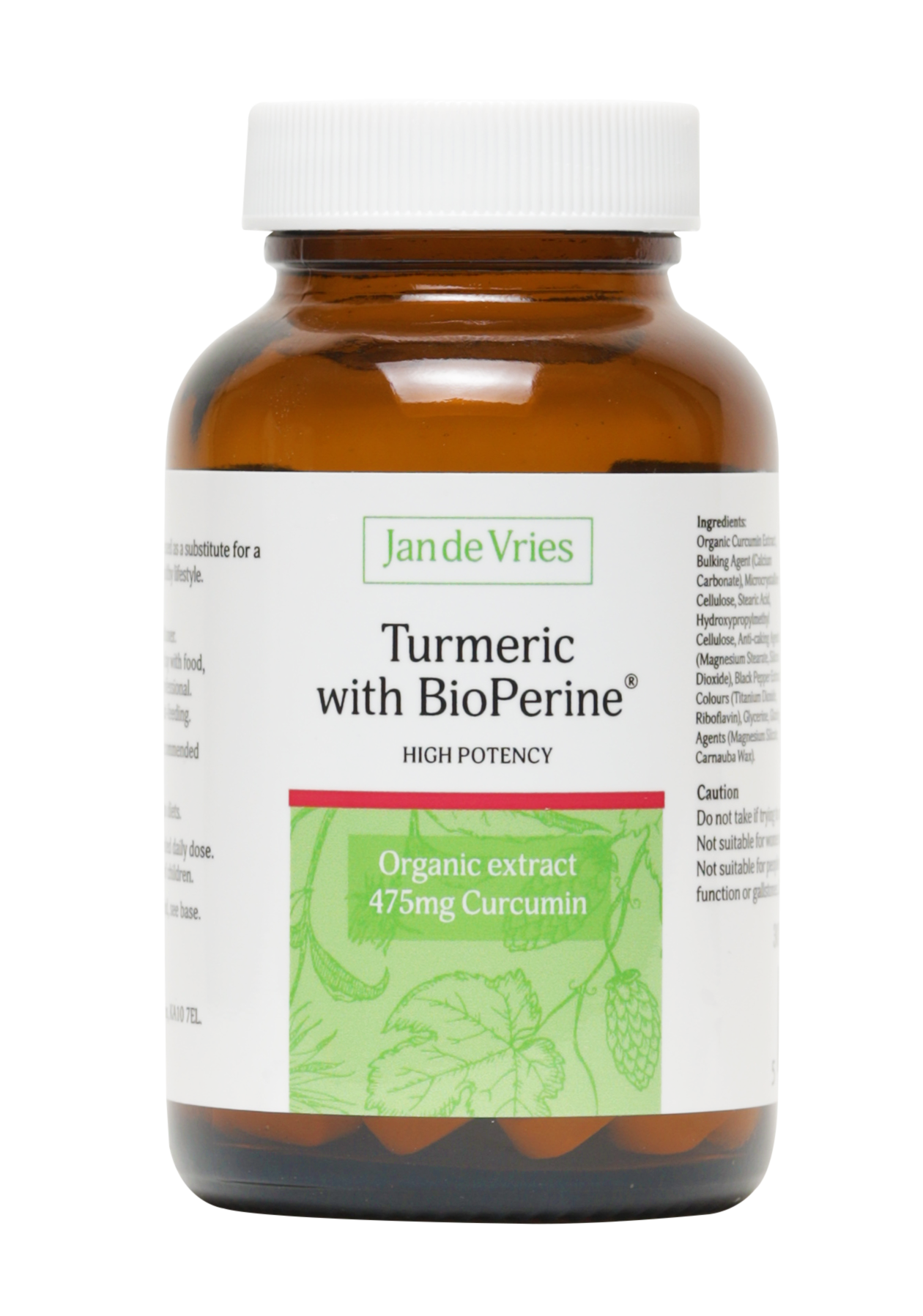 That's precisely why our turmeric supplement packs a peppery punch!
The new Turmeric with BioPerine® from Jan de Vries provides high potency 95% organic extract curcumin - the main active ingredient in turmeric, and piperine black pepper extract in the form of patented BioPerine®.
A bright orange spice and plant-cousin to ginger, turmeric (curcuma longa), is extensively used in Asian cuisine. It owes the majority of its health promoting properties to the chemical compound curcumin, which is well-documented for its anti-inflammatory and antioxidant properties.
Curcumin is thought to slow down inflammatory pathways if used in the treatment of arthritis, and in clinical trials, has been found to be effective at relieving pain and swelling in people with osteo and rheumatoid arthritis [1].
Curcumin is also believed to be a powerful antioxidant and its antioxidant action in the body is two-fold: it helps to neutralise free radicals in its own right [2] AND it stimulates the body's own antioxidant enzymes, delivering a two-pronged attack against damaging free radicals [3].
Most of the studies carried out on curcumin incorporate relatively high doses exceeding 1g a day, which would be difficult to source from food alone. And as mentioned above, in order for curcumin to do its thing, black pepper must be present to aid its uptake by the body.
Jan de Vries Turmeric with BioPerine® provides 95% curcumin, equivalent to 475mg of curcumin per 500mg tablet, and 5mg of piperine black pepper extract in the form of patented BioPerine®. It's one of six new Jan de Vries supplements and it's already proving hugely popular for those looking for a natural anti-inflammatory and help with joint pain.
Simply take 1 to 2 tablets daily with food.
Jan de Vries Turmeric with BioPerine® costs £11.00 for 30 vegan tablets and is available in all Jan de Vries stores as well as selected independent health shops nationwide and online from www.jandevrieshealth.co.uk.
---
[1] Chandran B, Goel A. A randomized, pilot study to assess the efficacy and safety of curcumin in patients with active rheumatoid arthritis. Phytother Res. 2012 Nov;26(11):1719-25. doi: 10.1002/ptr.4639. Epub 2012 Mar 9. PubMed PMID: 22407780.
[2] Menon VP, Sudheer AR. Antioxidant and anti-inflammatory properties of curcumin. Adv Exp Med Biol. 2007;595:105-25. Review. PubMed PMID: 17569207.
[3] Biswas SK, McClure D, Jimenez LA, Megson IL, Rahman I. Curcumin induces glutathione biosynthesis and inhibits NF-kappaB activation and interleukin-8 release in alveolar epithelial cells: mechanism of free radical scavenging activity. Antioxid Redox Signal. 2005 Jan-Feb;7(1-2):32-41. PubMed PMID: 15650394.