Madeleine Shaw is a nutritional therapist, best-selling cookery writer, chef and mother. A fellow advocate of the food-first approach to nutrient delivery and targeted supplementation at key life stages, we are huge fans of the new BetterYou range of nutritional oral sprays that have been developed in partnership with her. There are four BetterYou Madeleine Shaw sprays to choose from, each designed to support you at pivotal moments in your life, and one to support children from as young as one to teen – it's quite simply pill-free nutrients at their best, and we can't wait for you to try them.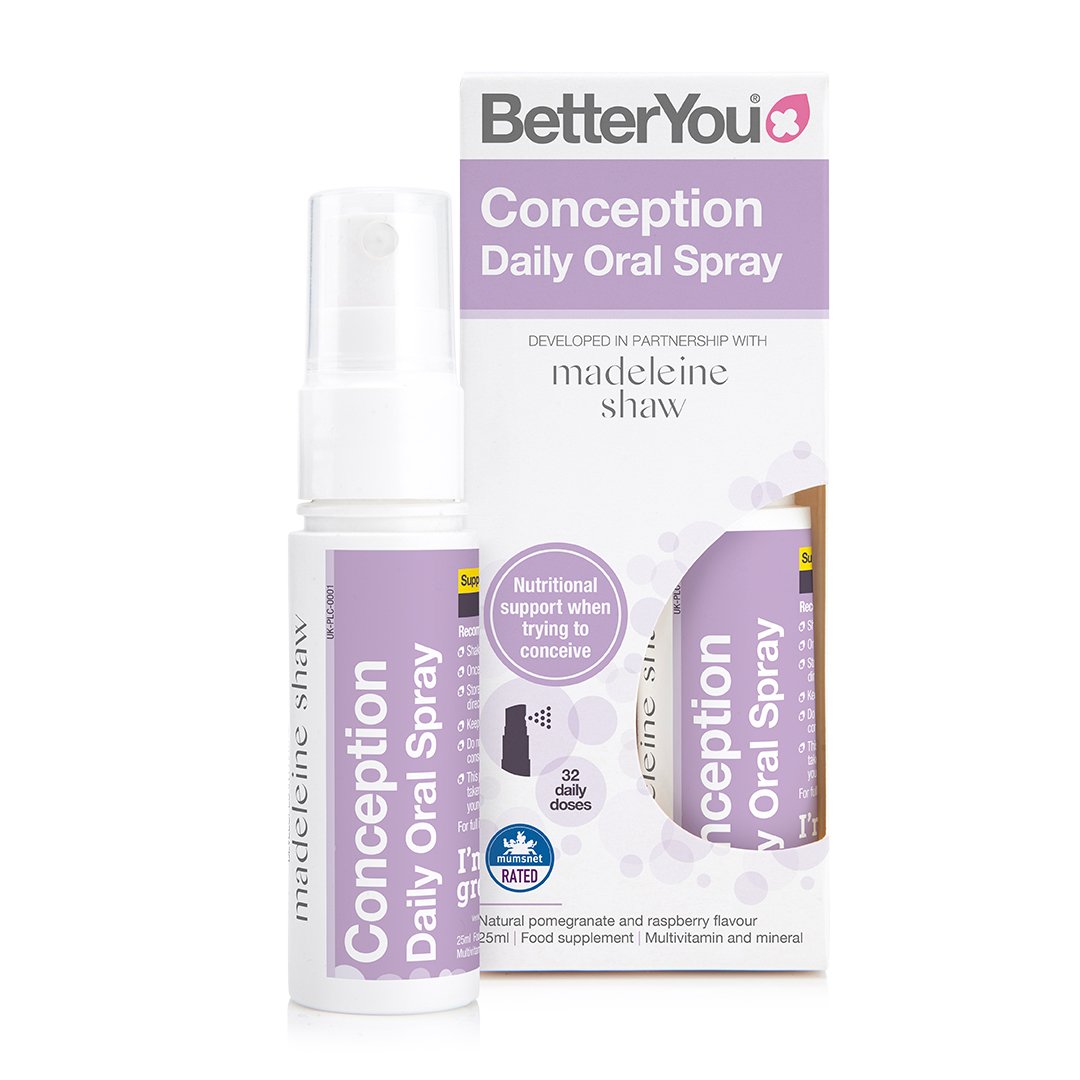 Hoping to fall pregnant? Conception Oral Spray offers expert, pill-free nutritional support for mums-to-be when trying for a baby. With seven essential nutrients that work together to support fertility and prepare the body for pregnancy, this new spray supplement supports maternal tissue growth and immune health, whilst contributing to normal fertility and cell production. With fast, effective nutrient delivery, it provides scientifically substantiated levels of zinc, selenium, and folic acid, as well as vitamin D3, iron, thiamine, and iodine. It also tastes great too – we love the natural pomegranate and raspberry flavour, and also that the spray bottle is made from carbon negative, plant-based plastic.
Madeleine Shaw Says: "The right nutrients are essential in signalling to your body that it is ready for pregnancy. The first few weeks of pregnancy are vital in supporting neural tube development in the foetus, so it's important to ensure nutrient levels are optimised to support your body at this time."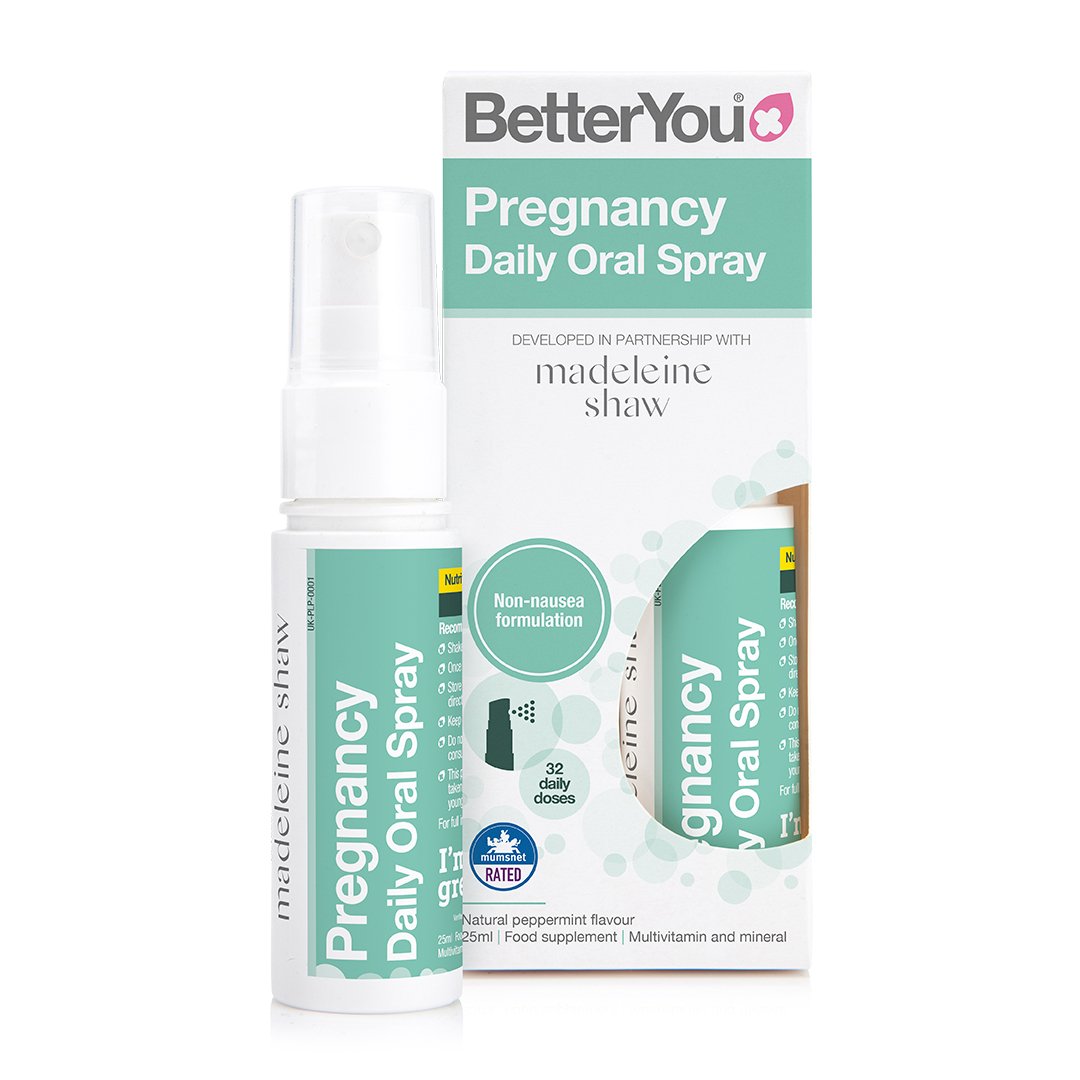 Already pregnant? Congratulations! BetterYou's Pregnancy Spray provides pill-free pregnancy support in the shape of six key nutrients, including folic acid, iodine, and iron, vitamins D3, K2 and B12, which are all important for mother and baby.
With natural peppermint it has been carefully created with a non-nausea formulation to support a healthy pregnancy and optimise overall wellbeing. It's ideal for mums-to-be and offers fast, effective nutrient delivery to support maternal tissue growth and normal function of the immune system, whilst contributing to the reduction of tiredness and fatigue by stimulating natural energy production.
Madeleine Shaw says: "Pregnancy can be a worrying time, and it can be difficult to know if you are getting the right nutrients to help your baby grow and develop, especially if you suffer from morning sickness. Our pregnancy multi-nutrient is an anti-nausea formulation, that delivers key nutrients straight to your bloodstream, giving you peace of mind that you and your baby's nutritional needs are met."
Get your glow back with this targeted vitamin spray for hair, skin and nails! An expert blend of six beauty-boosting nutrients including vitamin C, biotin, pantothenic acid, zinc, selenium and iodine, this pill-free beauty spray provides tailored support for healthy skin, hair and nails. With natural orange, peach and mango flavour, it tastes great too.
Delivering nutrients to the body quickly and effectively, this brand-new formulation is designed to help you look — and feel — your best, from the inside out.
Madeleine Shaw Says: "I was keen to ensure the range included a product to help 'get your glow back' after pregnancy, or when your skin, hair or nails needs some extra help. When you look after yourself inside, it shines through."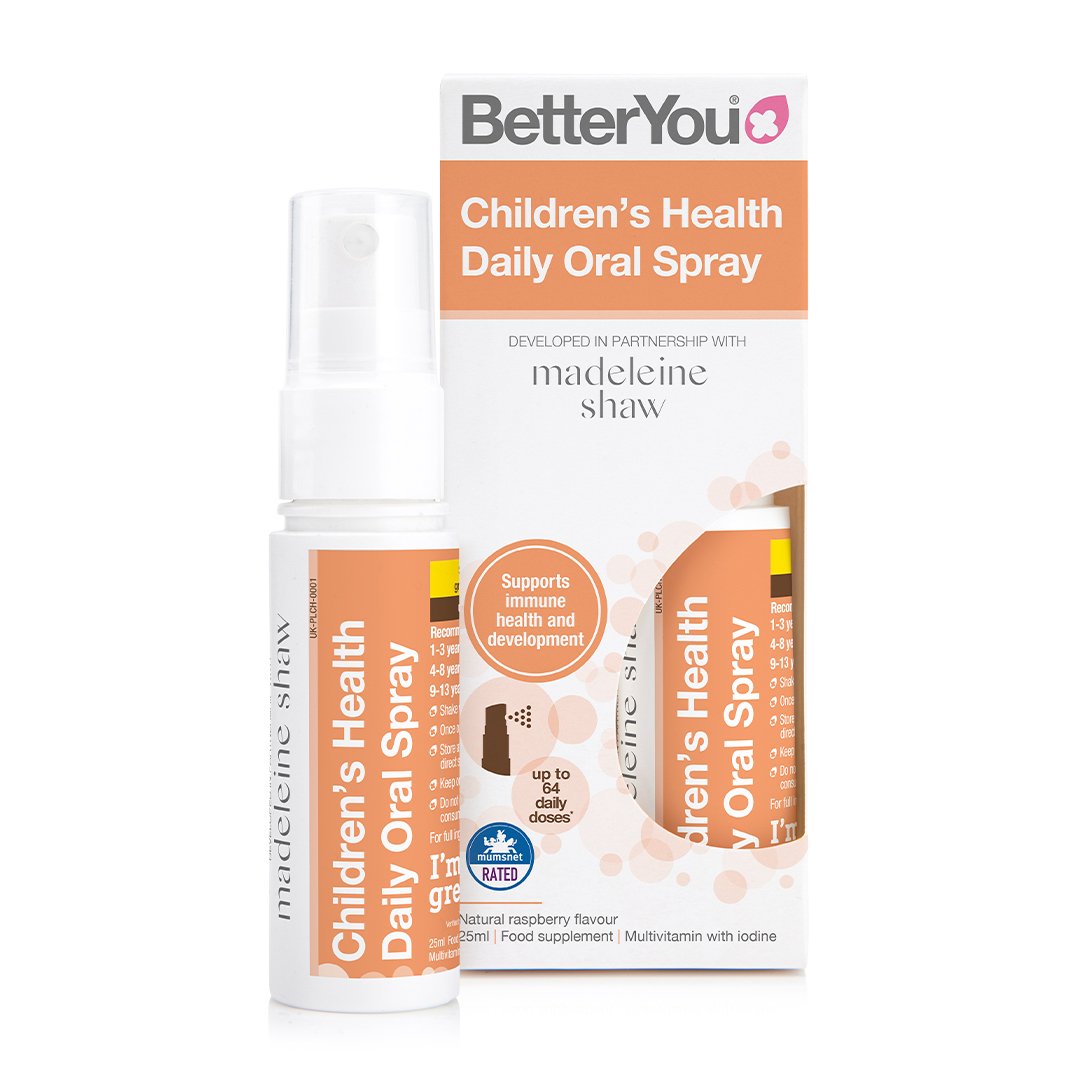 And easy, fuss-free vitamins for children don't come much better than BetterYou's brand-new Children's Health Oral Spray. As a mother and a nutritionist, children's health is extremely close to Madeleine's heart. This carefully developed formulation provides vitamins C, A, B12 and D, folic acid, iodine and vitamin K2, to help support bone development, energy requirements and attention span. For very young children to teen, it's easy to administer, easy to dose, and with its natural raspberry flavour, it tastes great too.
Madeleine Shaw Says: "Children can be fussy with food, so finding the right supplement is vital to ensure they continue to get the right nutrients to support their growth and development. Easy to administer, this formulation contains everything your child needs to support their health and wellbeing – and it tastes yummy."