It's that time again. Time to size up the sponges and don the marigolds – you've awakened from the quasi-hibernation that was winter, and now you're gripped by the urge to spring clean! An admirable, almost biological compulsion (that's another article), but did you know that some cleaners actually leave your house less clean than when you started? Your house may look clean, but cleaning products can contain potentially harmful chemicals that can be toxic, irritating and detrimental to health. Happily, you don't have to choose between a clean home and a healthy home. Cleaning without chemicals is easy and there's a good chance you will already have most of the ingredients.
Natural cleaning products
Natural cleaning ingredients really don't come more natural than lemon, salt, baking soda and vinegar.
Lemons are the perfect way to keep your home smelling fresh and clean, without resorting to synthetic air fresheners or fragrances. And their natural acidity helps remove dirt, soap scum and discolouration. Team with salt and you've got a gentle abrasive that can power through stubborn dirt.
Baking soda is another gentle cleaning giant, able to shift grime, grease and even limescale. On its own it can absorb unpleasant smells, and is great to sprinkle in a bin, on a mattress or in smelly shoes. Mixed with water it can be made into a paste to clean kitchen and bathroom surfaces as well as ovens, showers, toilets and sinks.
And vinegar is great as a natural multipurpose cleaner, but especially good on glass thanks to the acetic acid it contains. There are different types of vinegar to choose from but the best vinegar for cleaning is white distilled vinegar. It doesn't contain a colouring agent that can potentially stain light surfaces, and it has about 5% acidity, which is similar to the acidity level of shop-bought cleaners.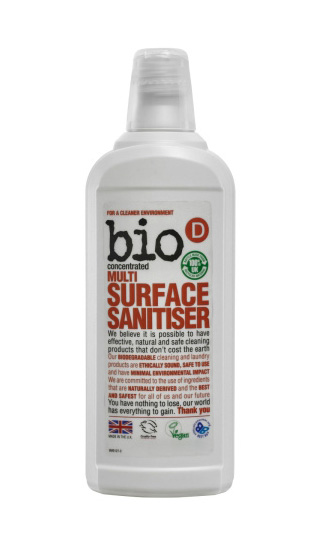 A few of our favourite natural cleaning products
In addition to these multi-tasking kitchen cupboard staples, here are three of our favourite chemical-free cleaning brands:
Bio-D
The award-winning ('Ethical Consumer Best Buy') Bio-D Multi-Surface Sanitiser , £2.92 for 750ml, can be used on sinks, baths, cookers, floors, tiles, work surfaces and paintwork, and is vegan, cruelty-free and bottled in 100% recycled post-consumer waste bottles. Add neat to a cloth for those heavy duty jobs or mix a small amount with water for citrus cleaning power. It contains orange oil as an effective degreasing agent and conforms to the food grade standard BSEN1276, for complete peace of mind when protecting against E-coli and Salmonella.
Bio Nature
An all-natural combination of purified water, plant derived ethanol and lemon myrtle essential oil, the Bio Nature Lemon Myrtle Spray , £6.25 for 125ml, acts as a natural deodoriser when sprayed into an affected room. The mist works by destroying airborne germs associated with bad odours and refreshing the air with the uplifting scent of lemon myrtle. It can also help to deodorise and refresh feet and footwear, and remove bathroom mould - simply spray on and leave!
An essential oil is also available. With exceptionally high levels of citral, a natural anti-microbial agent, the oil can be used in pot pourri, and as a natural mould remover. In topical use Lemon Myrtle Oil should be diluted with a carrier oil at a level of one drop to 10ml carrier oil.