The common cold is quite possibly the UK's most common illness with statistics showing that most adults experience on average two to four colds a year, and children more still. Colds and flu are caused by viruses and since there are over 200 of these in existence, it's easy to see why we get so many. They are also very easily spread, as we know only too well. If you're looking to support your immune health, there are several natural remedies that can help to keep you well this winter.
Echinacea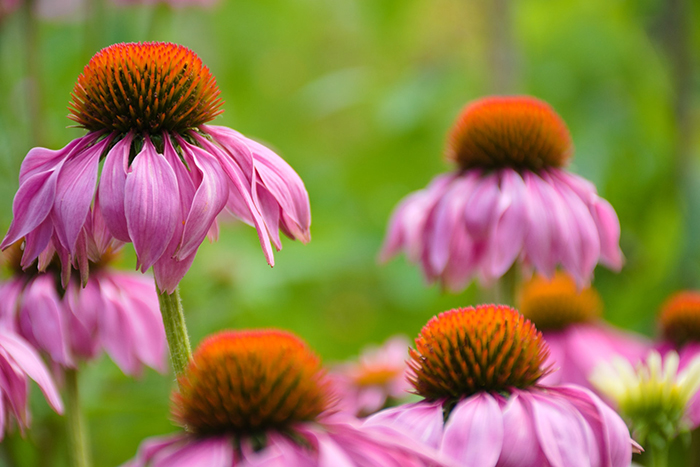 One of the most effective and well-researched is Echinacea purpurea. Most recently it was featured on the BBC's 'The Truth About Boosting Your Immune System', where they concluded there was reasonable evidence to support its use to prevent and treat symptoms of the common cold. We also know there is growing evidence that it can play a useful role in preventing the incidence of colds and flu, as well as reducing their severity and duration of symptoms. Echinaforce® is one of the most thoroughly researched Echinacea products on the market today. Simply dilute 15 drops of Echinaforce® Echinacea Drops in a small amount of water, two to three times a day. Not keen on the taste? Echinaforce® Hot Drink is flavoured with delicious extracts of Black Elderberry and is also licensed for the relief of flu symptoms.
Po-Ho
For nasal congestion and catarrh, you could try Po-Ho Oil. A combination of natural essential oils, including Po-Ho (Mandarin for Peppermint) Eucalyptus, Juniper, Caraway and Fennel, Po-Ho Oil can be inhaled as a vapour when diluted in a bowl of hot water. Use very sparingly, one drop is plenty, or put one or two drops onto a hankie and place under your pillow at night. Wash hands thoroughly after use. A handy inhaler is also available.
Ivy, Thyme & Liquorice
Chesty coughs can accompany colds or flu. They may come about as soon as the infection starts and could linger for long periods after the viruses have left your system. Herbal remedies have a long tradition of use in treating chesty coughs and today, are increasingly chosen by people who prefer to use natural cough medicines over less natural remedies. Bronchoforce Chesty Cough is a herbal remedy designed for the relief of chesty coughs, mucus coughs and catarrh. It helps relieve chesty coughs resulting from excess mucus or catarrh in the respiratory tract and contains ivy, thyme and liquorice.
Elderberry
Elderberry is one of the most commonly used medicinal plants in the world. Traditionally it has been used to treat infections and today is most commonly used to help with cold and flu symptoms. All parts of the elderberry tree are usually used, flowers, barks and berries, but the berries are great for making into juice or jam. One of our favourite elderberry juices is Pukka's Elderberry Syrup . A delicious blend of elderberry, Manuka honey, ginger and thyme, it is excellent for supporting your immune function, especially during the colder winter months. It is also suitable for children over the age of two, and because it tastes so good, you shouldn't have too much trouble convincing them to try it!
In addition to herbal remedies, you'll want to make sure your diet is as healthy as possible. Good immune-supportive foods include garlic, onions, olives, beetroot, peppers, apples, nuts, seeds, tofu, miso, lemon, lime, honey, blueberries... the list goes on, but generally lots of colourful ingredients that are rich in antioxidants and vitamin C.