Feeling the sun on your skin can feel great. And for good reason. Sun exposure has been linked to increased levels of the 'happy hormone' serotonin; the sun's rays also play an important role in encouraging our bodies to produce vitamin D, crucial for keeping bones, teeth and muscles healthy. But the sun has a darker side too: it can also wreak havoc on your skin, causing skin to age prematurely, and can even lead to skin cancer, which is still the most common form of cancer in the UK, with rates continuing to rise. This is why sunscreen is so important.
Always wear SPF
Even if you're not sunbathing, your skin is still exposed to the sun at this time of year, and sun exposure – whether pottering in the garden, going for a walk in the park or popping to the shops, all adds up. A good sun cream is your first line of defence against the sun's harmful rays.
An SPF (Skin Protection Factor) of 30 will block approximately 95 per cent of UVB rays, while SPF 50 will block around 97 per cent. There are plenty to choose from, but astonishingly, statistics show a quarter of us still don't wear sun cream in the summer!
As a guide, you should aim to apply around two teaspoons of sunscreen if you're just covering your head, arms and neck, and two tablespoons if you're covering your entire body while wearing a swimming costume. You should also reapply regularly throughout the day - most experts recommend at least every two hours, and straight after swimming, even if your sunscreen is 'water resistant'.
And don't forget to protect your lips using a lip balm with built-in SPF .
Natural sunscreens vs chemical
When it comes to sun protection, there are two main types: chemical and natural.
So-called natural sunscreens usually contain naturally-derived minerals like zinc oxide and titanium dioxide to block UV rays. They use active ingredients from plants, like aloe vera, to coat the skin and reflect UV rays off the dermal layers, as opposed to chemical sunscreens that work by absorbing the sun's rays.
An effective sunscreen will have a high SPF level. It will also be broad-spectrum, meaning it blocks both ultraviolet A (UVA) and ultraviolet B (UVB) rays.
And natural sunscreens are typically free of parabens and other potentially harmful or controversial ingredients, like oxybenzone, avobenzone, and octinoxate, that can be detected on skin and in blood weeks after no longer being used [1].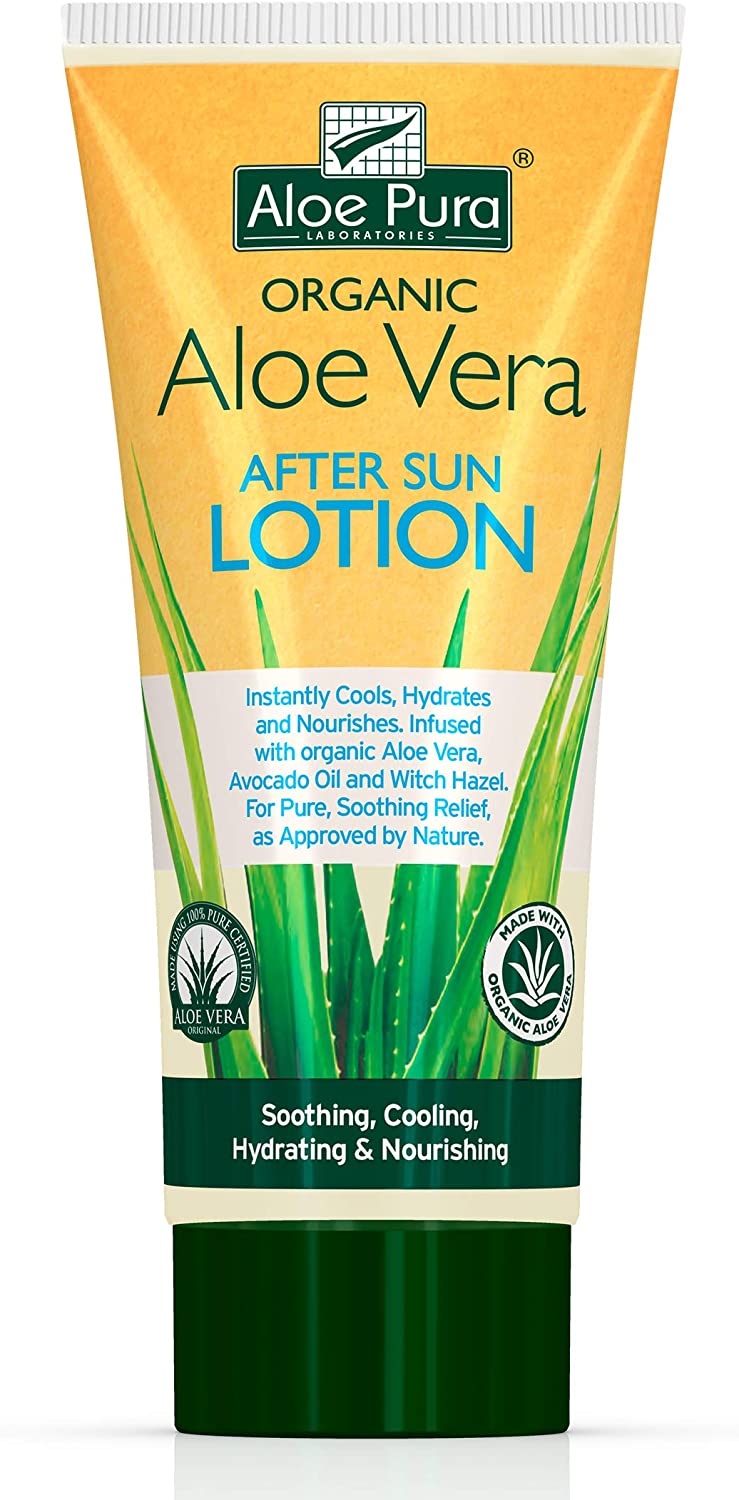 We recommend…
When shopping for sunscreen, it's crucial to monitor which ingredients are being used. In 2019, the FDA deemed zinc oxide and titanium dioxide as the only safe filters for sunscreens [2].
When it comes to natural sun protection, we recommend Aloe Pura products .
Active ingredient aloe vera is fantastic at soothing hot, tired skin, and it doesn't block the skin in the same way that some conventional sun lotions do – it allows skin to breathe, making it perfect for anyone with super sensitive skin and those prone to prickly heat.
Aloe Pura's Aloe Vera sun lotion with SPF50 contains pure aloe vera, combined with other nourishing ingredients like beeswax, jojoba oil and avocado oil, and it provides UVA and UVB protection to keep skin strong and healthy.
An Aloe Pura Aloe Vera Sun Lotion SPF25 and SPF15 are also available, as well as a soothing Aloe Pura Aloe Vera After Sun Lotion for if you do get caught short.
Check the UV index
Finally, remember to check the UV index in your area. The higher the UV index, the easier it is for your skin to burn and become damaged. If the UV index in your area is above three, you'll need to take extra steps to protect your skin.
You can find out the UV index for where you are on the Met Office website .
---
[1] Effect of Sunscreen Application on Plasma Concentration of Sunscreen Active Ingredients: A Randomized Clinical Trial | Dermatology | JAMA | JAMA Network
[2] FDA advances new proposed regulation to make sure that sunscreens are safe and effective | FDA