From vitamin C to elderberry, there are plenty of ways to support your immune health naturally. Here are five of our favourite immune support products to keep you well this autumn and beyond.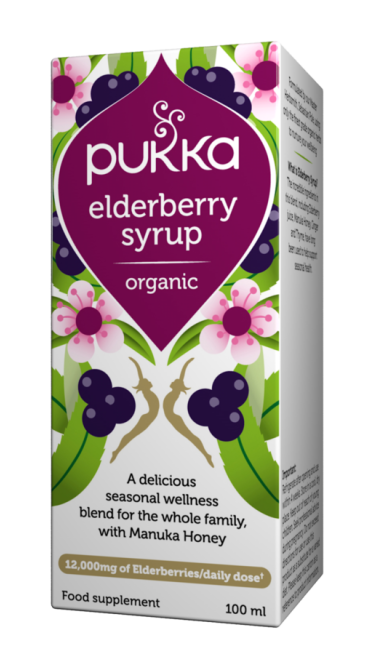 Elderberry is one of the most commonly used medicinal plants in the world. Traditionally it has been used to treat infections and today is most commonly used to help with cold and flu symptoms. All parts of the elderberry tree are usually used, flowers, barks and berries, but the berries are great for making into juice or jam. One of our favourite elderberry juices is Pukka's Elderberry Syrup. A delicious blend of elderberry, Manuka honey, ginger and thyme, it is excellent for supporting your immune function, especially during the colder winter months. It is also suitable for children over the age of two, and because it tastes so good, you shouldn't have too much trouble convincing them to try it!
Garlic has been used for centuries as both food and medicine, and it's a herb Jan de Vries wrote extensively about. Eating garlic may provide a wide variety of health benefits, including enhanced immune function, with some studies showing it may reduce your risk of falling ill [1] and also reduce the severity of your symptoms[2]. Garlic is of course relatively easy to incorporate into your diet, although do try to eat it as raw as possible. If you're not a fan of its pungent taste and smell, try our very own Hawthorn-Garlic Complex, which provides 75mg of powdered garlic per vegan capsule.
Echinacea purpurea is one of the most effective and well-researched herbal remedies for colds and flu. It even made it onto the BBC, whose documentary 'The Truth About Boosting Your Immune System', concluded there was reasonable evidence to support its use to prevent and treat symptoms of the common cold. Echinaforce® is one of the most thoroughly researched Echinacea products available. Simply dilute 15 drops of Echinaforce® Echinacea Drops in a small amount of water, two to three times a day. Not keen on the taste? Try Echinaforce® Chewable Cold & Flu Tablets. Easy to take, they're ideal for adults who are unable to swallow tablets and children over the age of 12, and with their zesty orange flavour, they taste good too!
With seven active ingredients, including a pure elderberry extract equivalent to 4g of dried elderberry fruit, beta glucans, vitamin C, zinc, selenium, copper and vitamin D3, we love this blend of immune supportive nutrients from Solgar. Created to help keep you healthy during times when you may need additional immune support, such as the winter months or periods of increased exercise or stress, simply take two vegetarian capsules daily.
Vitamin C is important for many reasons but especially so for immune health. There are plenty of food sources of vitamin C and lots of vitamin C supplements to choose from. One of our favourites is the new Liposomal Vitamin C from Coyne Healthcare. A relatively new delivery method, liposome technology is used to deliver nutrients and medicines more effectively into the body for optimal results. Liposomes are microbubbles made from lipids which encapsulate the molecule or substance to be delivered – in this case vitamin C. Once packaged in protective liposomes, vitamin C is then taken up by the digestive system and delivered into the blood stream more effectively. This allows for smaller doses to be taken less frequently due to improved bioavailability. Coyne's Liposomal Vitamin C is gentle and non-acidic, and provides 730mg liposomal C in every easy to swallow, vegetarian capsule.
[1] Antiviral potential of garlic ( Allium sativum) and its organosulfur compounds: A systematic update of pre-clinical and clinical data - PubMed (nih.gov)
[2] Interventions for preventing influenza: An overview of Cochrane systematic reviews and a Bayesian network meta-analysis - PubMed (nih.gov)