You might be wondering where our name – Jan de Vries – comes from. Well, it's actually the name of our founder, a widely celebrated naturopath who was an expert in his field.
Jan de Vries was born in Holland in 1937 and grew up during the difficult years of the Second World War. From these difficult years, he developed a strong desire to help people, which was really the beginning of his life's work in natural health.
Jan first studied pharmacy, from which he graduated in 1958. He developed a fascination with plant medicine two years later after a chance meeting with Alfred Vogel, who was treating patients with herbal remedies in his clinic in Switzerland at the time. The two developed a close personal and working relationship, through which Jan learnt a great deal about natural medicine, and the benefits of treating the whole body rather than the specific illness.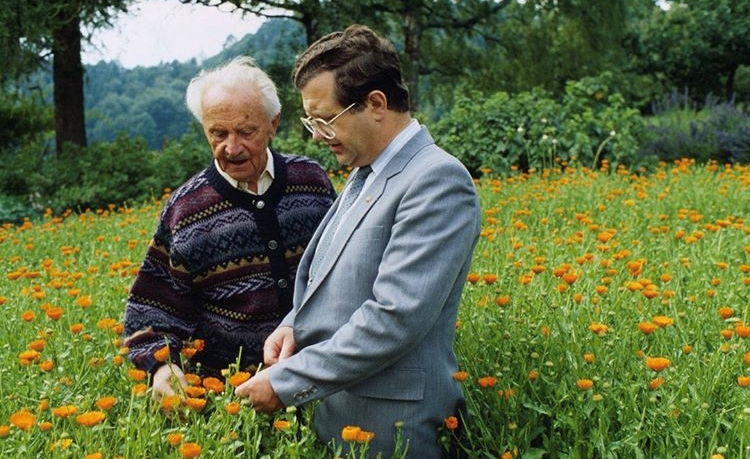 Jan's knowledge and experience grew as he travelled around the world, learning about natural medicine – for example, he travelled to China to learn more about acupuncture. He also studied osteopathy in Germany and worked with many other practitioners from a variety of backgrounds. Jan's academic background in orthodox medicine, as well as his experience and fascination with alternative medicine, meant that he was a great believer in complementary medicine – using a combination of orthodox and alternative medicine to heal the whole body.
He opened his first clinic in Holland with Alfred Vogel, and also began importing Alfred Vogel's herbal remedies into Holland. In 1971 he moved to Scotland to set up a residential clinic in Troon, a small seaside town on the west coast. Here he helped countless people improve their health and changed the lives of many. Jan loved to teach and as well as spending time with his customers, he was also in constant demand as a popular and insightful lecturer.
From this first clinic developed the health food stores we now run across the country. The Jan de Vries stores are a family run business, offering expert advice and natural health products. Although Jan de Vries sadly passed away in 2015, we are proud of the values inherited from our fantastic founder and we work hard every day to continue his ethos.