Anaemia is a growing problem with a number of causes, ranging from a lack of iron to a lack of vitamin B12. While not considered to be an urgent health condition, it can still affect your day to day life, making you feel tired, listless and less like your usual self. But what can you really do to improve your symptoms? Well after some hunting in the Jan de Vries archives I came across one of Jan's old articles on anaemia, with his personal recommendations about how to tackle the problem!
By Jan de Vries
Anaemia is a word that is often used when people look pale and listless, but do we really know what anaemia is all about? To put it simply, anaemia is a condition in which there is a reduction of the number of red blood corpuscles and/or of haemoglobin in the blood. The result of this is to diminish the blood's capacity to transport oxygen. The cause of anaemia may be an inadequate production of red cells, but it can also be caused by an excessive loss of blood.
Pernicious anaemia is a specific form of anaemia characterised by lesions of the spinal cord, weakness, a sore tongue, numbness in the arms and legs, and diarrhoea, and this is considered to be associated with an inadequate absorption of Vitamin B12. Regular B12 injections theoretically help re-balance this deficiency but between the injections of Vitamin B12 levels may well drop considerably.
I often recommend taking one tablet daily of Bio-active B12. This tablet is placed in the mouth and sucked until the tablets dissolves. This way, the B12 Is absorbed through the mouth membranes, bypassing the stomach where we have the inability to absorb the B12 itself. Vitamin B12 is a non-toxic vitamin and having a B12 injection in combination with the little tablet you suck will not give any toxic side effects.
Unless a diagnosis of pernicious anaemia has been confirmed, there are many ways that anaemia can be helped. But let us first look at why it should occur and the reason behind it.
Blood is a liquid compound of blood plasma containing red blood cells, white blood cells and platelets. This liquid takes care of the vital transport and efficient distribution of nutrients and oxygen to all parts of the body.
Blood circulates through the heart, arteries, veins and capillaries, depending firstly on the red blood cells, called the erythrocytes, which contain the haemoglobin and carry oxygen, giving the blood its familiar red colour, and secondly the white blood cells, also called leukocytes.
We should be grateful to the blood because this red liquid is essential for the nourishments of tissues and cells, while in addition it carries anti-toxins and other ingredients which help to ward off invaders.
A normal adult has approximately 8-10 pints of blood and it is, of course, of great importance that the amount of blood is kept to the required level and is of such a quality that it can fulfil all the functions it is supposed to do. If we look at what is required of the blood, it is no wonder that it is often called the "elixir of life." We ourselves are responsible for keeping the quality of the blood up to a standard and wherever possible for improving it and certainly encouraging it in its task with some of the remedies nature has to offer.
I remember a young lady who became very fond of soup made with stinging nettles. She had once been told that this plant was a sensible supplement and for those of you who have never tried it, I can assure you that it is completely edible. Cheese with nettle also tastes good and it is certainly worth giving it a try.
What this young lady did not know was that by eating nettles she has improved the quality of her blood and although once she has been slightly anaemic, the increased level of haemoglobin had actually cured her anaemia.
Slight deficiencies of certain nutrients could result in a drastic breakdown of the haemoglobin and a reduction of physical stamina. This has happened in some parts of the world as a result of vitamin E deficiency and can also easily happen when insufficient fresh vegetables are eaten, such as spinach, endive, lettuce, alfalfa or cress. This is also the reason why Herbamare salt is better for us than normal salt, because Herbamare contains valuable supplementary nutrients. Its use will indeed help to maintain the correct level of haemoglobin.
Herbamare is a herbal seasoning salt from the Bioforce range and is especially nutritious as it contains fresh, organically grown herbs and unrefined sea salt plus natural iodine obtained from kelp. It is made according to the original formula of the famous Swiss naturopath Dr A.Vogel.
The fresh herbs are combined with natural sea salt and allowed to "steep" for up to one year before the moisture is removed by a special vacuum process at a low temperature. This slow, careful process allows all the good qualities, the aroma and taste to be absorbed by the sea salt. Use Herbamare at the table, in cooking or any take you want the taste and aroma of fresh herbs.
The ingredients of Herbamare are sea salt, celery leaves, leeks, celery root, cress (water and garden), onions, chives, parsley, lovage, garlic, basil, marjoram, rosemary, thyme and kelp (with trace iodine).
Did you know that A.Vogel's Herbamare Salt is available in a wide range of flavours, from spicy to low sodium? Perfect for sprinkling over your soup!
An anaemic condition can also develop as a result of an iron deficiency, when fresh vegetables containing iron are not used regularly enough. Anaemia in itself is not an illness, but it is a condition that deserves our attention to avoid it becoming a symptom of an illness.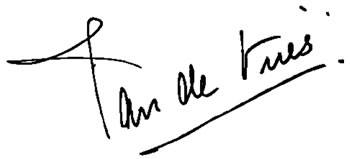 From the Jan de Vries archives
So there you have it, as Jan said, diet can potentially make a big difference. Incorporating more iron-rich foods – more fresh green vegetables - can be a step in the right direction but if you really need to increase your intake of this nutrient, a supplement may be a good starting place.
Here at Jan de Vries, we would normally recommend a gentle iron supplement such as Solgar's 20mg Iron Vegetable Capsules. These help to support haemoglobin formation whilst being kind on your digestive system enabling you to avoid any unfortunate side-effects! Solgar also offer a liquid B12 formula that's quick and easy to absorb, containing extracts of B1 and B6!