• Relief of nasal congestion
• Relief of nasal catarrh
• Can be used for longer periods of time
What is Sinuforce Nasal Spray?
Sinuforce Nasal Spray + menthol is a class 1 medical device according to Council Directive 93/42/EEC. Always read the leaflet.
The 100% natural ingredients soothe your nasal mucous membranes.
Sinuforce Nasal Spray with menthol also contains peppermint oil and eucalyptus oil to ease breathing, and chamomile oil which has a soothing effect on your nose.
If required, the nasal spray can be used over a prolonged period of up to 30 days.
The unique bottle makes preservatives unnecessary.
Dosage of Sinuforce Nasal Spray
Children (2-12 years):
Spray once into each nostril, 1-2 times a day for a period not exceeding 30 days.
Adults: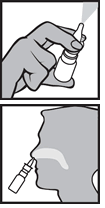 Spray once or twice into each nostril, 3-5 times daily for a period not exceeding 30 days.
This product is not suitable for children under 2 years old.
Holding the bottle upright, remove the plastic cap and insert the nozzle into the nostril.Depress the pump by placing the fingers on either side of the nozzle.
Note: It may be necessary to prime the pump before use by depressing the spray mechanism once or twice until a fine spray appears.
Ingredients
Physiological saline solution (purified water, sodium chloride (NaCl), disodium hydrogen phosphate-12H2O, sodium dihydrogen phosphate-2H2O); sorbitol; PEG-40 hydrogenated castor oil; eucalyptus oil (Eucalyptus globulus); peppermint oil (Mentha piperita); chamomile oil (Chamomilla recutita).
Is this product suitable for me?
Use Sinuforce Nasal Spray if your nose is blocked during or after a cold.
Sinuforce is suitable for anyone over 2 years of age.
Other symptoms may include a feeling that your sinuses are congested (possibly causing headaches), or catarrh sitting stubbornly in your nasal passages. It is also a good product to try if you are finding it hard to breathe freely through your nose, with symptoms affecting your sleep or ability to exercise.
If your symptoms are caused by hayfever or allergic rhinitis (allergies to dust or animals), giving you an itchy or irritated nose, Pollinosan Luffa Nasal Spray will be more suitable for you. Other symptoms may include your nose and eyes reacting to certain weather conditions or factors that you can't pin down.
It is unlikely that you would need both these products at the same time - Sinuforce Nasal Spray is for blocked noses and Pollinosan Nasal Spray predominantly for runny noses.
How long can it be used for?
Sinuforce Nasal Spray can be used for a maximum of 30 days.
Use within 12 weeks of opening.
Frequently asked questions
1. Can Sinuforce be used for children?
We advise not to use it for children under the age of two, and for parents to administer it to children under the age of twelve.
2. Can Sinuforce be used during pregnancy or breastfeeding?
There are no restrictions on use during pregnancy or breastfeeding, but we advise pregnant women to consult their doctor or midwife before using any herbal products.
3. I have high blood pressure. Can I use Sinuforce Nasal Spray?
Yes, there is no reason not to use Sinuforce Nasal Spray if you have high blood pressure or other heart problems.
This product should not be used by anyone who is allergic to any of the ingredients.
4. Is Sinuforce Nasal Spray suitable for vegetarians and vegans?
Yes this product is suitable for both vegetarians and vegans.
What is the difference between Sinuforce Nasal Spray & Sinuforce Dry Nose Spray
• Sinuforce Nasal Spray is indicated for nasal catarrh, nasal congestion, and sinus congestion.
• Sinuforce Dry Nose Spray is suitable for people prone to forming dry mucus crusts in the nose
• Sinuforce Dry Nose Spray contains hyaluronic acid in solution to moisturise and support flexibility in the nasal membranes
*Not intended for use by pregnant or nursing women. If you are taking any medications or have any medical condition, please consult your healthcare practitioner before taking this product.
I. Find this product good for keeping the nasal passages clear especially at night

I find this helpful at night when my nasal passages seem blocked!

I find that this is good for clearing the sinus for some time when going to bed!

An excellent product for clearing the nasal passages and sinuses!

Cleared up a sinus infection which had made me miserable for four months in just two days - miracle cure!